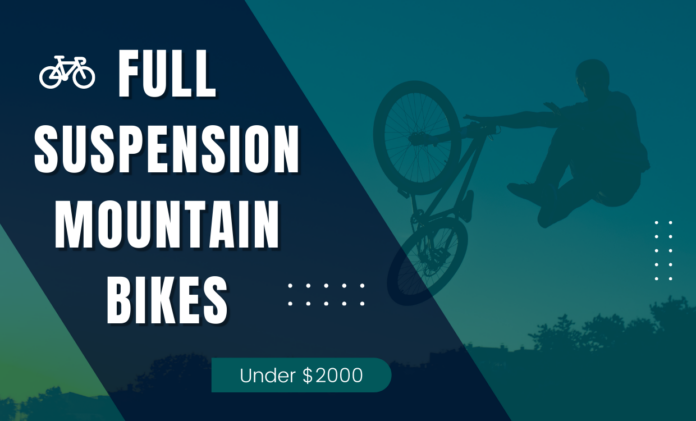 Finding an inexpensive casual touring bike or road bike is relatively easy than finding a full-suspension mountain bike under $2,000.
But there's a reason why these MTBs are on the pricier side of the spectrum, even when you're buying entry-level models.
To begin with, they need to have a complicated full suspension system with high travel distances. They should also have high-quality braking that functions outstandingly and lets you stop quickly and control your speed during descents as well as on rough terrains.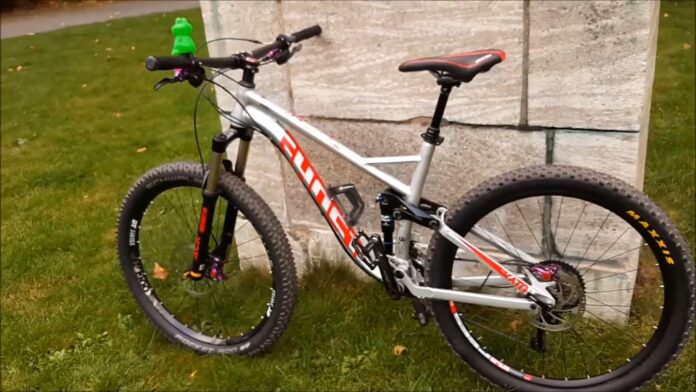 Your MTB should be nimble and light too, which means using quality materials for the frame (such as lightweight aluminum or carbon fiber) and having a user-friendly design.
Add other factors like small manufacturing scale, marketing budgets, and additional operating costs like warranties, and you'll have skyrocketing prices. But don't worry because it's still possible to get the best full suspension mountain bike under $2,000.
Here're our top seven picks for full suspension mountain bikes that won't break the bank.
Best Full Suspension Mountain Bike Under 2000
1. Fuel EX 5 ($2,099.99)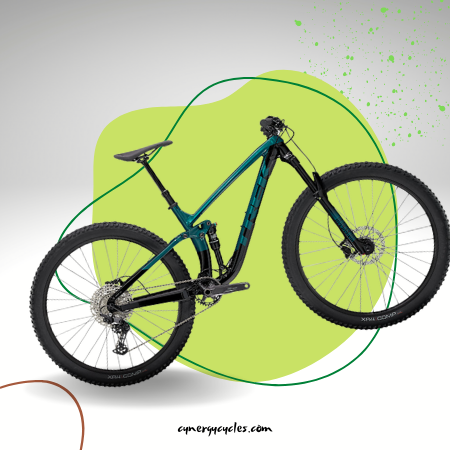 This MTB is a born descender that can hit rough terrains with ease while giving you excellent control when punching down trails or riding over rocks and obstructions.
Though it's no slouch when you ride it uphill, it's more suited for descents at rolling speeds. Fuel EX 5 has a lightweight Alpha Platinum aluminum frame.
The frame has an internal cable management system to facilitate any combination of the brake, shift, dropper post lines, and lockout to be routed through the frame for clean looks.
It boasts of a dropper post, which you can use to lower your saddle while in motion. This MTB has Bontrager XR4 tires (2.6″ wide) that have a lot of air volume to facilitate running on lower pressures.
These tires also have a versatile tread pattern to deliver predictable and confident cornering along with braking traction in tough conditions. Thanks to Bontrager's Tubeless-ready (TLR) rims and tires, you can get rid of the tubes (while adding TLR rim strips, valves, and sealants) to enjoy improved traction, less weight, and fewer flats.
To let you ride more confidently, there's an active braking pivot that decides how the suspension would react to acceleration and braking forces independently.
Though Shimano MT200 hydraulic disc brakes are adequate to offer reasonably-well stopping power, they feel a little underpowered for the speeds the Fuel EX 5 can achieve.  
Bike Specification
Weight – 33.14 pounds (with tubes)
Available in 8 sizes – XS to XXL
Alpha Platinum Aluminum frame
Bontrager XR4 Team Issue tires with max tire size of 29×2.60″
Shimano hydraulic disc brake with MT200 caliper and MT201 lever
RockShox Recon RL fork, 140mm travel
Shimano Deore M6000, 10-speed shifter
Shimano Deore M6000 rear derailleur, mid cage
Color – Trek Black/Purple Lotus and Slate/Trek Black
Pros
Affordably-priced
Supple rear suspension
Cons
Moderately heavy
Brakes a bit underpowered to match the speed
2.  GHOST SL AMR 2.9 29″ Bike – 2023 ($1699.89)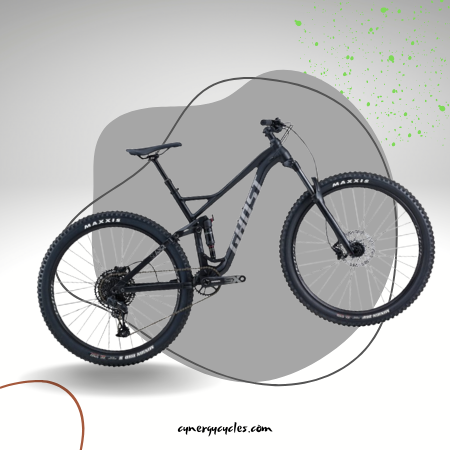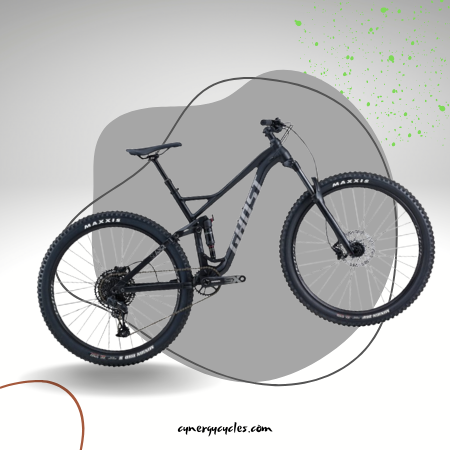 When searching for the best full suspension mountain bike under $2,000 that comes with big wheels, an adjustable dropper post, and lets you ride downhill with a lot of fun and uphill reliably without upsetting your budget, the Ghost SL AMR 2.9 is just what you need.
This MTB with 12 gears blends the SL AMR series' contemporary trail bike geometry with the qualities of 29" wheels complimented by simple but solid specs.
It has a strong hydroformed aluminum frame that comes with a tapered head tube, which improves stiffness, reduces weight, and gives you better control on descents.
Thanks to a steep seat tube angle, you'll enjoy an efficient riding position when going uphill. This MTB features 29-inch wheels and RockShox Judy Silver fork to deliver 130mm of tunable travel, which combine to give you maximum speed and a smooth ride, irrespective of whether you're rolling down a smooth terrain or working through rocks and roots.
Since you'll get Maxxis Minion DHF 2.5" and DHR 2.4" tires designed to stand out both in tough trail conditions and loamy terrain, you won't have problems navigating through rocks, hard-pack dirt, roots, and mud.
For optimized shifting performance, the Ghost SL AMR 2.9 comes with SRAM SX Eagle 1×12 drivetrain. Thanks to its Shimano BRMT-400 hydraulic disc brakes coupled with 180mm rotors, this MTB gives you powerful, one-finger braking and modulation to enjoy your ride to the fullest while staying safe.
 Bike Specification
Weight – 33 pounds 8 ounce
Available in 4 sizes – X to XL
Aluminum Ghost AMR frame
Tires – MAXXIS Minion DHF 29 x 2.5″ at the front; Maxxis DHRII 29 x 2.4″ in rear
Shimano BRMT-400 brakes with 180mm rotors
RockShox Judy Silver fork, 130mm travel
SRAM SX Eagle shifters
12 gears
Color – Black/Gray Graphic
Pros
Affordably-priced entry-level full suspension MTB
Adjustable dropper post
Cable routing for a clean look
Cons
Pedal crank may rub on the derailleur/brake cable casings
3. GT SENSOR ALUMINUM 29″ SPORT BIKE 2023 ($2000.00)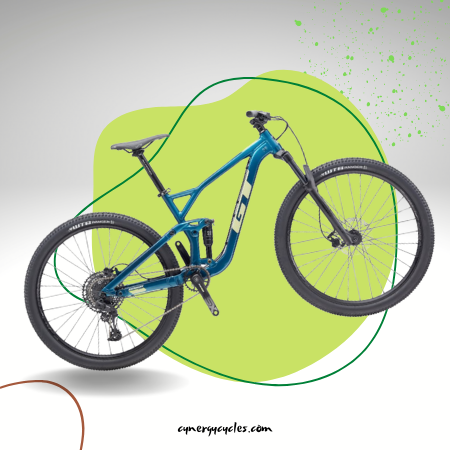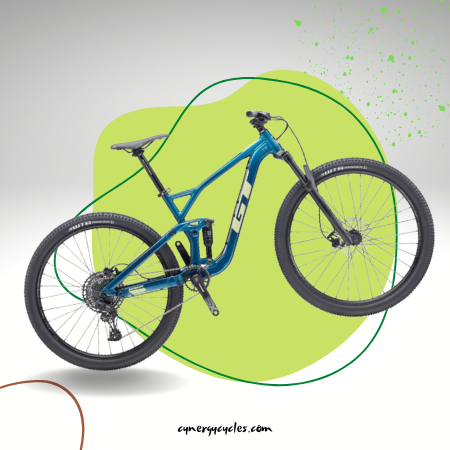 This MTB uses GT's LTS (Linkage Tuned Suspension) system, which can be called the company's attempt to give its classic four-bar Horst link design a contemporary face-lift.
Made up of lightweight and durable Sensor Alloy frame, the 2023 GT Sensor comes with 65.5-degree head angle, 140/130mm of travel (front/rear), 4-bar suspension design, a dropper seat post, and 435mm chain-stay length, which make it an affordable, user-friendly MTB that sits on the more extreme end of the trail riding spectrum.
A notable feature of GT Sensor is its external cable routing, which makes replacing cables and servicing quite easy.
For a smooth ride, the GT Sensor Sport has RockShox/X-Fusion suspension. Thanks to its SRAM SX Eagle drivetrain with 12 speeds, you'll have all the necessary gears to go up the steepest climbs.
With Tektro Hydraulic brakes, you can rest assured of having superb stopping power, which would come handy during steeper descents.
Whether you want to take this MTB to fun and flowy single tracks or bike park trails, all-day marathon adventures, or anything in-between, it will handle them all with élan.  
Bike Specification
Weight – 36.50 pounds
Available in 2 sizes – L and XL
Sensor Alloy 29" frame
RockShox Recon RL fork, 140mm
WTB Ranger Comp 29×2.25″ tires
SRAM SX Eagle shifters, 12-speed
SRAM SX Eagle rear derailleur
Tektro M285 hydro disc brakes, 180/180mm rotors
Color – Deep teal
Pros
Bulky design
Nice suspension
Performs well on most trails and is safe too
Great fork design
Cons
The cockpit may feel cramped on long rides
4. GIANT STANCE 29″ 2 BIKE 2023 ($1,550.00)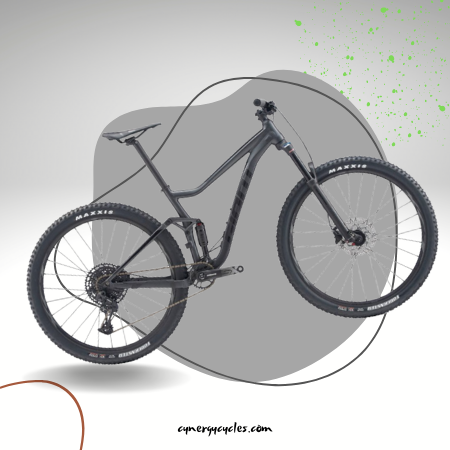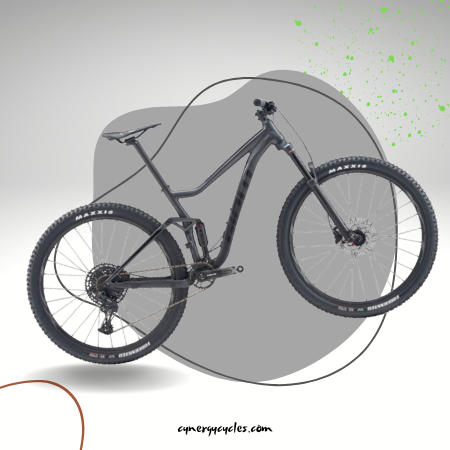 If you're a new rider weighing your "hardtail vs. full suspension" options and looking for the best full suspension mountain bike under $2,000, the Giant Stance 29″ 2 would be a good bet.
It has a durable and lightweight ALUXX aluminum frame and single-pivot 'FlexPoint' rear suspension to let you enjoy complete control while having a balanced and smooth ride.
This MTB's Suntour Raidon suspension helps you to navigate bumps comfortably.
The frame features 120mm of rear travel and 130mm of upfront travel. Though the Giant Stance has a low sticker price, it packs several hot-ticket items.
Thanks to its Maxxis Forekaster tubeless tires and Giant XCT tubeless rims, you'll get fewer flats and better traction.
For simplicity and a smoother ride where you can go uphill and power down hills easily, you'll have a 1×12-speed SRAM SX Eagle drivetrain along with SX Eagle cassette with an outstanding 11-50-tooth gear range.
For superb stopping power that helps you descend with confidence, you've got the Shimano MT200 hydraulic disc brakes. There's no dropper post though, which would have been a nice addition.
If you're planning new adventures on a budget or want to smash your way through tough trails, the Giant Stance 29″ 2 is worth considering.
Bike Specification
Weight – 30 pounds
Available in size – medium
ALUXX Aluminum frame
Suntour Raidon 34 fork, 130mm travel
SRAM SX Eagle shifters
SRAM SX Eagle rear derailleur
Shimano MT200 brakes
Maxxis Forekaster 29×2.35″ tires, EXO, Tubeless
Color – Gunmetal black/Metallic red
Pros
Lightweight, maneuverable full-suspension bike
Solid all-round performance at an awesome price
29-inch wheels deliver great roll-over ability on rocky terrain
Wide gear range for comfortable climbing
Cons
5. NORCO FLUID FS 3 27.5″ BIKE 2023 ($1,799.00)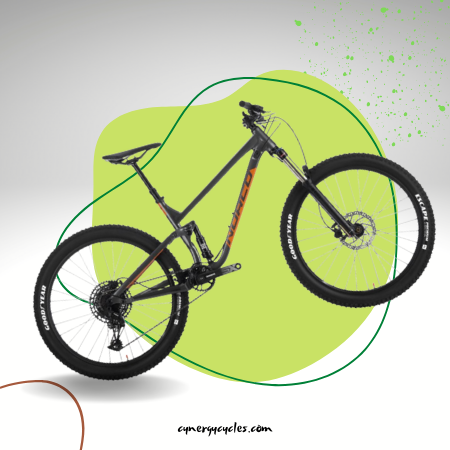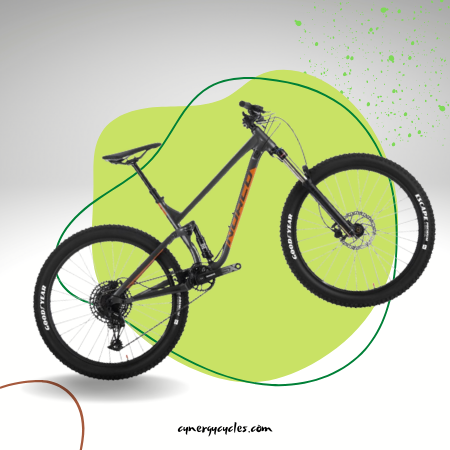 At its sticker price, Norco Fluid FS 3 is an absolute steal with its lightweight and durable premium X6 double-butted aluminum frame.
This full-suspension mountain bike features WTB STP i29 rims that have been paired with Goodyear Escape 2.6″ tires to let you go tubeless for better traction, fewer flats, and a smoother ride.
The Fluid FS 3 comes with SRAM SX Eagle drivetrain with 12 speeds and a cassette with an 11-50-tooth gear range that makes going uphill and cruising down descents a cakewalk.
However, some users complain that Norco has failed to nail the shock tune, which makes this MTB feel harsher and more lifeless than it should be.
If you need powerful stopping power for a safe and confidence-inspiring ride, you're in safe hands as this MTB is equipped with Tektro HD-M275 hydraulic disc brakes.
Since the Fluid FS 3 features the TranzX dropper post, you can lift and lower your saddle fast, which would let you go uphill with a full leg extension while cruising down with a lower center of gravity.
Bike Specification
Weight – 35.10 pounds
Available in 3 sizes – XS, S, and M
6061 Aluminum frame
SR-Suntour XCR-34 AIR fork, 130mm of travel
X-Fusion 02 Pro R rear shock, 120mm of travel
SRAM SX Eagle shifters, 12-speed
SRAM SX Eagle rear derailleur
Tektro HD-M275 Hydraulic brakes, 180mm front, 160mm rear
Goodyear Escape 2.6″ front and rear tires
WTB STP i29 TCS rims wheelset with alloy boost hubs
Color – Charcoal/orange and Green/black
Pros
Killer build and finish
Lightweight and durable X6 aluminum frame
TranzX dropper post
Cons
Norco fails to nail the shock tune
6. GHOST Kato FS 2.7 27.5″ Bike – 2023 ($1,799.95)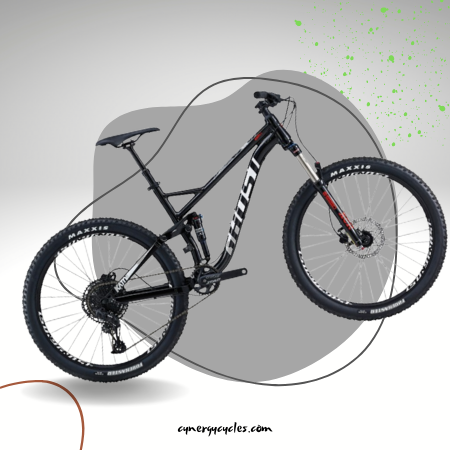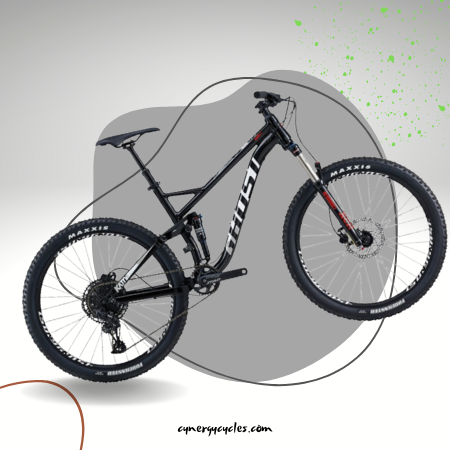 The German brand Ghost makes some of the best full-suspension MTBs available in the market. The entry-level Ghost Kato FS 2.7 has a lightweight aluminum frame and features top-rated suspension kinematics coupled with low-maintenance bearings.
That's why it features in this list of the best full suspension mountain bike under $2,000.
To help you climb with ease, this MTB has a lockout option with its SR Suntour XCR 34 fork that delivers 130mm of travel.
To reduce teetering and absorb impacts of the trail, it has SR Suntour DUAIR rear shock that provides 130mm of tunable travel.
To let you enjoy an optimal blend of maneuverability, speed, and control, the Ghost Kato FS 2.7 comes equipped with 27.5-inch wheels and Maxxis Forecaster 2.35-inch tires.
For optimized shifting, you've got SRAM SX Eagle shifters and rear derailleur along with 12 gears.
With Tektro HD M285 hydraulic disc brakes, you'll get decent, one-finger braking as well as modulation on the trails.
Thanks to the JD Dropper Seatpost, you can enjoy on-the-move adjustment while riding down challenging descents.
Bike Specification
Weight – 31.97 pounds
Available in 4 sizes – S to XL
27.5-inch wheels
Maxxis Forecaster 27.5 x 2.35 tires, 60tpi
SR Suntour XCR 34 coil fork to provide 130mm of travel, tapered steerer, 15 x 110 boost
SR Suntour DUAIR rear shock to provide 130mm of travel
SRAM SX Eagle shifters and rear derailleur
12 gears
Tektro HD-M285 brakes, 180mm rotors
Color – Black/White
Pros
Balanced lightweight aluminum frame
Top-rated suspension kinematics with low-maintenance bearings
Shimano components to guarantee durability and quality
JD dropper seatpost
Cons
Cockpit feels a bit outdated
7. Diamondback Atroz 3 Full Suspension Mountain Bike ($1,500.00)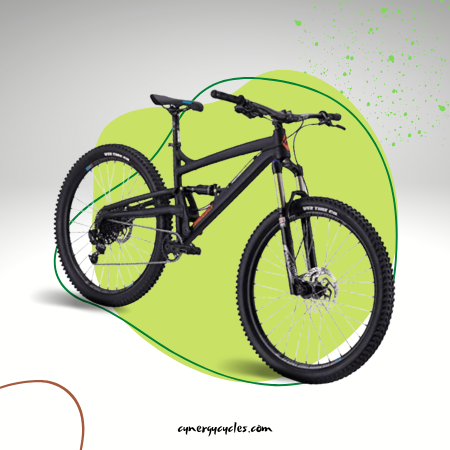 If you're looking for an MTB with a magnificent suspension system to make off-roading a pleasurable experience, the Atroz 3 would be just what you need.
It features a hand-built, strong aluminum alloy full-suspension frame providing 4 inches of travel to deliver optimal support and durability on different trails and terrains.
This MTB comes equipped with an optimized single pivot frame with sealed cartridge bearings to ensure your speed doesn't get compromised, regardless of how rocky the terrain is.
Thanks to its RockShox Recon RL fork providing 130mm of travel with rebound and lockout adjustment, you can ride across all types of tricky terrains and enjoy smooth and safe descents.
With Rock Shox Monarch R rear shock, most of the road impacts are absorbed to give you a comfortable ride and ensure you don't get fatigued easily even after riding for long hours.
If riding up and down steep inclines is on your to-do list and you plan to challenge yourself on off-road terrains, this MTB's SRAM NX X-Horizon 11-speed drivetrain would give you a wide selection of gears to ensure good speed and confident riding.
Thanks to its Shimano MT200 hydraulic brake levers, you'll get incredible stopping power in all terrains and weather conditions to enjoy full control over your speed.
Bike Specification
Weight – 48.1 pounds
Available in 3 sizes – SM 5'4″-5'7″, MD 5'7″-5'10", and LG 5'10"-6'1″
VEE Rubber, Flow Snap, 27.5×2.35 tires
Rockshox Recon RL fork, solo air with 130mm of travel
Rock Shox Monarch R bike rear shock, air shock with rebound adjust, 184x44mm
SRAM NX 11-speed rear derailleur
Shimano MT200 Hydraulic brake levers
Color – Black/White
Pros
Affordable pricing
Durable frame
Rock Shox suspension for a smooth ride
Cons
Final thought
Mountain biking is an expensive sport where you'll get to choose from hundreds of excellent bikes when you move to the highest end of the price spectrum.
Even if you don't want to splurge to that extent, you can still get excellent bikes with price tags varying from $4,000 to $6,000. But not everybody may be ready to spend so much.
Fortunately, you can get quite a few full-suspension MTBs for under or around $2,000. So, if you're looking for the best full suspension mountain bike under $2,000, you need not despair. Rather, make the most of our list above and do some research on your own to find full-suspension rigs that sit comfortably within your "under $2000" budget. Just remember to decide the buying options carefully – online stores, consumer-direct companies, or local bike shop.
While you may save reasonably well with the first two, they would require some sort of assembly, which could be difficult for beginners and may even cost extra if you need in-person service. In case you prefer a test ride before purchasing, your local bike shop could serve you well.