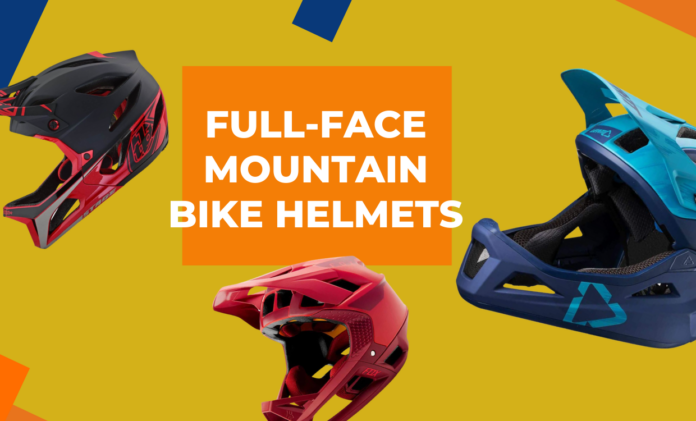 Not many MTB riders think about investing in the best full-face mountain bike helmet. Many complain such helmets to be overweight and having ventilation problems. However, what was true once is no longer valid today, thanks to modern technology used in such helmets.
You can now even buy full-face mountain bike helmet with the removable chin bar, which is as comfy as any half-shell helmet that's used for general riding and climbing.
But Do You Need a Full-Face helmet?
If you still debate the use of a full-face mountain bike helmet, just imagine what ordeal (both physical and psychological) you'll have to go otherwise should you crash your head on a rock or any hard terrain.
You may be inclined to invest your money in getting the best MTB and parts, often putting your own protection on the backburner. But remember that face injury could be traumatic and head injuries a lot worse. Often, some brain injuries don't even heal. It's true that even the best full-face helmet can't guarantee 100% safety.
Instead, what they can do is to give you insurance against the face and head injuries, which is surely worth your money.
And if you've already experienced a crash while riding your MTB that ended up damaging your helmet, probably you already know wearing that helmet to protect your head and face was worth every dime.
To cut things short, yes, you do need a full face helmet.
What To Consider When Buying a Full Face Helmet?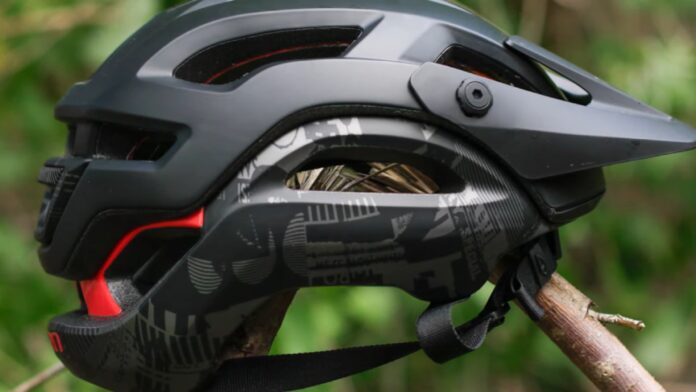 Construction
The primary function of the full-face mountain bike helmet is to protect your head and face in case of a crash or accident by absorbing the impact of the event. This makes it important to check your shortlisted helmet's construction.
Superior quality helmets today are not only lightweight but even are a lot stronger than they were even a few years ago, thanks to the modern technological advancements.
Before you go shopping for a lightweight full-face mountain bike helmet, you need to know about the materials commonly used to create them.
Expanded polystyrene (EPS) foam is the standard material used for the purpose, which is protected with a thin polycarbonate layer so that the impact gets spread over the foam while offering protection to your head.
A helmet's internal construction makes use of soft foam or gel that comes with padding for comfort. You'll have secure straps for fastening your helmet that should loop the ears and form a proper V under your ear lobe.
Quality helmets these days offer the MIPS (Multi-directional Impact Protection) where a low-friction slip cage is positioned within the helmet to help decrease rotational forces sustained during impact.
Fit
Getting the right fit is crucial. Remember that people have heads of different shapes and sizes. This means a helmet suitable for your friend may not be the ideal choice for you.
Additionally, helmets of different manufacturers are available in different shapes and sizes.
Thus, it becomes important for you to ensure your chosen helmet offers a snug fit, which means it should press down on your head gently and not feel too tight to trigger a headache.
Even when the straps aren't fastened, the helmet should stay on your head. In case you find it sliding off, it's likely to be a size too big.
A good helmet should offer adequate coverage for your head and face. Additionally, it should let you alter the inner helmet cage's circumference and the height so that your head is enclosed within it comfortably.
Gel pads or foam on the inside of your helmet should be spaced consistently for an even spread of the pressure and weight.
The straps of your helmet should be durable, strong, and adjustable to meet at a Y below the ear lobes. They should be tight enough to prevent the helmet from moving beyond an inch from its original position.
Here's a nice video explaining that
Ventilation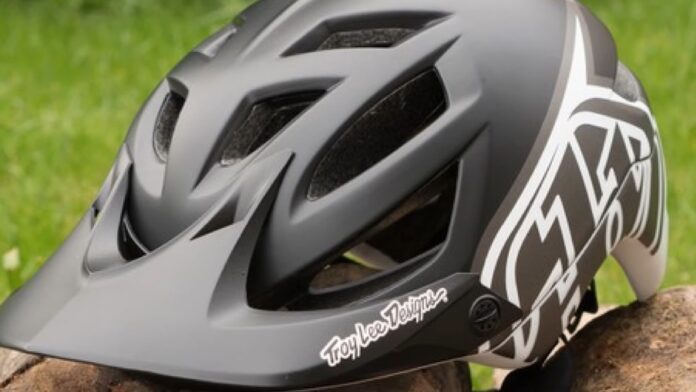 When you ride your MTB, you'll be losing a lot of heat through your head. Thus, it becomes vital to ensure your helmet has adequate airflow to help this generated heat to escape, which would keep your head comfortable and cool throughout the ride.
Ventilation ports are positioned tactically to draw in air and direct it to exit points, thus creating a cooling effect by convection.
If you notice larger front vents, your helmet's ability to cool would be better, provided it also has adequate and well-spaced ventilation at the back to facilitate air channels to work efficiently.
There's always a competition between your helmet's ability to keep your head cool and protect it. You already know that the thickness and density of the foam liner matters a lot from the point of view of security.
But boosting ventilation with either larger or more ports would need a denser foam or liner reinforcement. This may end up passing on more g-force to the head in case there's an impact.
This means your helmet isn't better just because it has more vents. Rather, it could be more dangerous.  
It's quite difficult to test your helmet's cooling capabilities due to several limitations.
For instance, even a slight change in your head angle could either obstruct or facilitate how air flows through vents, thus creating a major difference in the process.
Other puzzling factors include hair, a proper fit, and sweat.
Bonus Features
Some bonus features could make all the difference between a perfect helmet and one that's just great! For instance, full-face mountain bike helmet with removable chin bar could be ideal for those looking for an extra edge and protection without sacrificing the flexibility to go without the chin bar when they're climbing while reattaching it again during their downhill (DH) ride.
Shades' compatibility is another factor to consider. You should ideally go shopping with your shades and/or goggles to ensure your helmet plays nicely with them.
Removable and washable pads (that let you feel fresh and not put up with sweaty and stale pads), light and camera mounts, adjustable visors (that shield your eyes from the sun's glare and even help keep the rain out of your eyes), etc. are some other convenience features that you should look for when buying an MTB helmet.
List Of The Best Full-Face Mountain Bike Helmet
1. Fox Racing Proframe- Best Full Face Enduro Helmet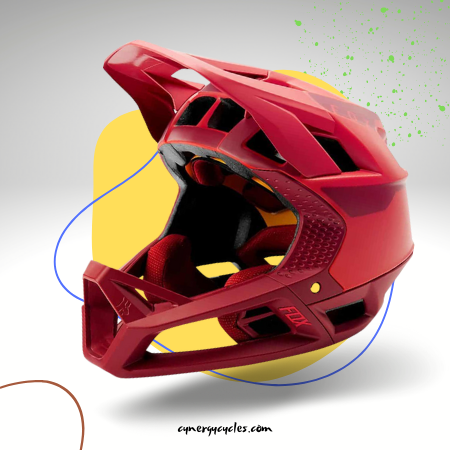 Fox Racing's ultralight helmet (available in four sizes namely S, M, L, and XL) is the market leader in the full-face trail helmet category.
From enduro racers to all-mountain riders, it would meet everyone's riding needs – both on the climbs and descents.
If you detest wearing heavy astronaut-type helmets while navigating those rough DH trails, this Fox Racing Proframe helmet is just what you need for a comfortable and confident ride.
With a streamlined design, this full-face helmet offers fixed visor (for optimum airflow) and chin bar protection.
For unmatched breathability, it has 24 Big Bore vents along with 9 exhaust and 15 intake vents to facilitate continuous airflow.
To protect your head, it comes equipped with the MIPS technology and also boasts of a dual-density Varizorb EPS liner to distribute the impact.
Since this helmet has Fidlock's snap buckle, you can easily wear or unfasten it with just one hand – even when you're wearing gloves.  
Highlighted Features
Ultra-lightweight helmet (weighing 750g for the size M)
Unmatched breathability with 24 Big Bore vents
Broad impact distribution with dual-density Varizorb EPS
MIPS inner basket to help disperse rotational energy
Pros
Ultralight helmet
24 Big Bore vents for unmatched breathability
Varizorb EPS and MIPS
ASTM-certified for safety standards
Cons
Fixed visor
No removable chin bar for climbing
Chinstrap mobility is limited
2. DEMON UNITED Podium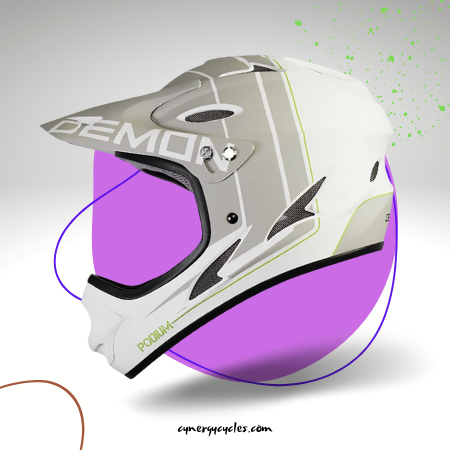 This lightweight and durable entry-level full face helmet has a tough polycarbonate shell. It weighs just a little bit over 2 pounds (2lbs, 2oz. to be precise), and is CPSC-certified for safety standards.
Available in 9 different colors, this helmet also offers MIPS in its select models. There's a removable and washable EPS foam liner that conforms to your shape to provide you with a superior fit.
Thanks to 13 massive vents placed strategically along the helmet body, the Demon Podium lets cool airflow through the helmet while venting out the warm air.
You'll also get a fully adjustable visor that ensures the sun's glare won't obstruct your vision. The visor comes accompanied by aluminium side visor screws.
Highlighted Features
Lightweight, entry-level full-face helmet (weighing 2lbs, 2oz.)
13 massive vents for adequate ventilation
Removable and washable EPS foam liner
Fully adjustable visor
Pros
Lightweight
Stylish and cool design by Demon Team riders
Washable and detachable EPS foam liner
Comes with a helmet bag
Cons
A little pricey for an entry-level helmet
3. 7 Protection M1 Helmet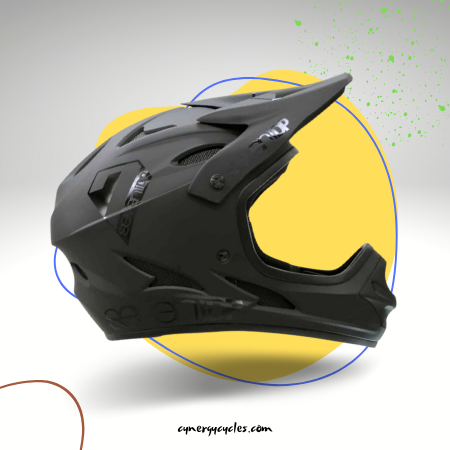 Available in 6 sizes (2 youth sizes namely YOUTH M and YOUTH L along with XS, S, M, and L), the 7 Protection M1 Helmet offers effective full-face protection at an extremely affordable price.
It boasts of 3 key certifications (CE, CPSC, AS) for safety standards and has a low weight of 2.08 pounds. Made up of a strong polycarbonate shell, this helmet has EPP soft impact foam that helps in absorbing the harsh impacts of a crash.
Even if your front tire gets stuck and you tumble face down, you'll get adequate protection from the foam-padded internals. To keep your head cool, this MTB helmet comes with 17 mesh-covered vents.
If fitting your shades or goggles has been a problem, forget them as the 7 Protection M1 has a wide face opening. For a snug fit, you've got an easily modifiable buckle closure.
There's an adjustable visor too to shield your eyes from the sun's glare.Two aluminium screws along with a central thumb screw hold the visor.
Highlighted Features
Lightweight and affordably priced
EPP soft impact foam helps absorb the impact of a crash
Easily modifiable buckle closure for a snug fit
Wide face opening to help fit the largest pair of shades
Pros
Affordable pricing
Stylish look with screen-printed logos and matte finish
EPP soft impact foam
Wide face opening and adjustable buckle
Cons
4. Leatt DBX 3.0 Enduro Full-Face Helmet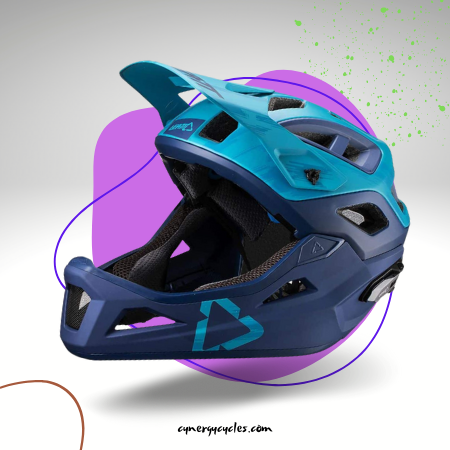 Available in 5 sizes (XS to XL), Leatt's DBX 3.0 Enduro is a modular helmet crafted for enduro racers.
If you're looking for a full-face mountain bike helmet with a removable chin bar, this product could be what you need. Ideal for racing downhill and extended trail rides, this lightweight helmet's outer shell is made of polycarbonate and offers superb breathability with 23 vents.
The DBX 3.0 comes equipped with Leatt's pioneering 360-degree Turbine Technology and 3D in-moulded impact foam. Together, they diffuse and dissipate impact forces when you crash or fall.
Tests indicate this technology decreases up to 30% of the impacts that could trigger concussions along with up to 40% of rotational energy that could adversely impact your head and brain.
This helmet has a visor too, which is designed to break away in a crash to diffuse rotational energy. Thanks to the Fidlock magnetic buckle, getting a snug, custom fit and getting in and out of it even with gloves on is quite easy.
To ensure your stay hydrated while enjoying your DH ride or enduro races, Leatt gives you an optional hand-free hydration kit.
If you hate helmets that get sweaty and grungy midway through the season, you're in safe hands with Leatt as its DBX 3.0 has a breathable, anti-odor, moisture-wicking cheek pads and liner that are washable.
Highlighted Features
Designed for enduro racers with a removable chin bar
360-degree Turbine Technology to distribute rotational energy
3D-molded energy-absorbing material to dissolve impact force
23 vents for superb breathability
Breakaway visor to minimize the crash impact
Pros
Well-ventilated and lightweight (starts from 1.65 lbs)
Robust polycarbonate shell
Anti-odor, moisture-wicking liner and pads for comfort
Multiple certifications (CPSC, ASTM, AS/NZ, CE) for safety
Cons
Not very comfortable in a full-face setting
Doesn't feel as head-hugging as some of its competitors
5. 100% Status Helmet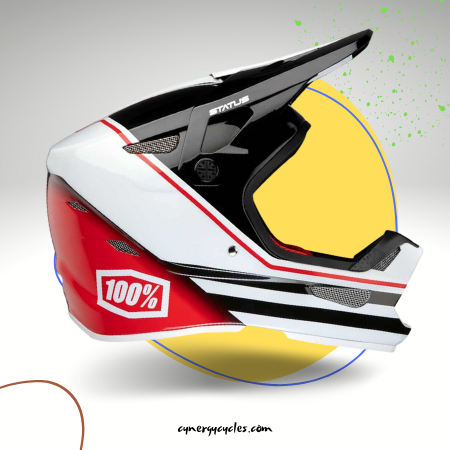 If you're looking for a lightweight full-face mountain bike helmet that's ideal for DH racing but doesn't have a steep price tag, the 100% Status could be worth a try.
By making use of its top-tier compatriot's (Aircraft) technology, 100% Status gives you a helmet that has a lightweight fibreglass shell.
Similar to Aircraft, the 100% Status too has an active cooling system to optimize airflow and offer adequate ventilation, thus keeping you cool.
Though there's no MIPS liner, its EPS impact foam is burly. For added safety and comfort, you'll get a padded chin bar.
To ensure hygiene, the 100% Status comes with washable and removable padding. There's an adjustable visor too.
For functionality and safety, the 100% Status is designed to be compatible with emergency helmet release systems.
Highlighted Features
DH helmet with a lightweight fiberglass shell
Efficient venting with an active cooling system
Burly EPS impact foam
Compatible with emergency release systems
Pros
Affordable pricing
Well-ventilated and lightweight (approximately 950gms)
Soft liner and washable cheek pads
Cons
No MIPS
Visor peak adjuster could rub against the helmet's shell to cause minor annoyances
6. Troy Lee Designs Stage MIPS Bike Helmet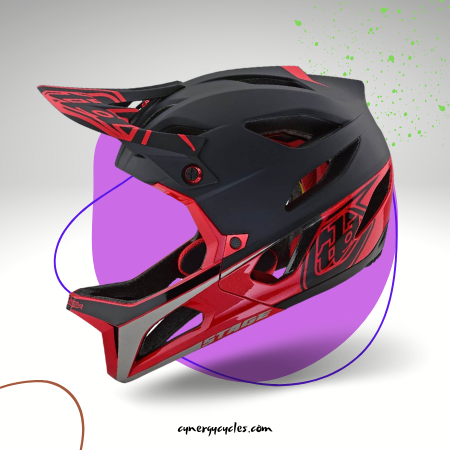 This enduro-focused helmet is available in 3 sizes (XL/XXL, XS/S, and M/L). It brings EPS (for high-speed impacts) and EPP (for slow-speed impacts) into a solitary sleek design that's lightweight (weighing just 1 lb. 8 oz.) and gives you the necessary confidence to navigate the less-traveled trails.
It has a polylite shell structure together with fiber reinforcement as well as a chin bar (polyacrylite-injected) with EXOskeleton to deliver adequate protection.
Apart from its dual-density EPS/EPP inner shell, the Stage also offers MIPS where a low-friction layer moves 10 to 15mm in all directions to decrease rotational motion to the brain during a crash or sudden and severe impacts.
Thanks to the presence of 25 vents (14 open-core exhaust and 11 high-flow intake) along with huge openings in the chin bar, the Stage provides you with extensive ventilation.
It also features a user-friendly Fidlock magnetic buckle. For a custom fit, it comes with 3 sets of cheek pads as well as 2 neck rolls and 2 liners.
By leveraging the X-Static technology that harnesses silver's power to eliminate human-based odor-causing microbes, this helmet feels fresher for longer as the liner is not only odor-free but also quick-drying, moisture-wicking, and quite comfortable. 
Highlighted Features
Enduro-focused helmet
Dual-density EPS/EPP inner shell and MIPS for superb protection
25 vents for extensive ventilation
X-Static technology for odor-free liner
3 different-sized cheek pads, 2 neck rolls, and 2 liners to fine-tune the fit
Pros
Well-ventilated and lightweight (1 lb. 8 oz.)
Chin bar (polyacrylite-injected) with EXOskeleton
3-year manufacturer's warranty
Cons
7. SHRED Brain Box Noshock Full Face Mountain Bike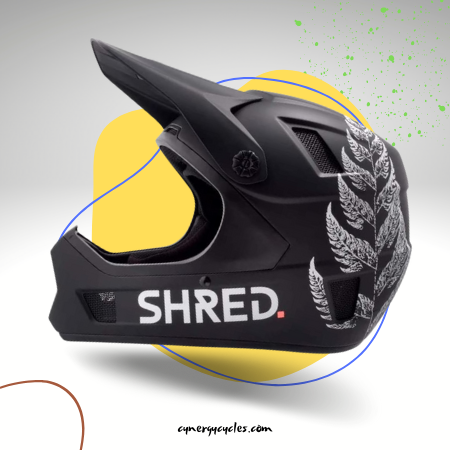 If you need a lightweight full-face mountain bike helmet that's good looking and doesn't compromise with the safety aspect, the Brain Box Noshock could be worth a try.
Available in 2 sizes – L/XL and S/M and weighing 1096 g (S/M size), this helmet has a fiberglass shell.
There's a patented honeycomb cone structure made of SLYTECH foam that's integrated into the EPS to dissolve impact energy in multiple directions for maximum safety.
This helmet leverages SHRED's RES (Rotational Energy System) that the company says helps in decreasing rotational accelerations to the head. It's done by facilitating a relative movement between the head and the helmet via multi-directional, ultra-thin, absorption units crafted with an elastic layer.
With 15 vents positioned strategically to direct the air from the helmet's front to the back, you can forget about the sweaty head and fogging goggles. The Brain Box Noshock uses XT2, which is an anti-microbial technology, to offer permanent odor protection.
Highlighted Features
Sturdy fiberglass shell with integrated SLYTECH noshock honeycomb
Superlight EPS
RES to decrease rotational accelerations to the head
15 vents for ventilation
Pros
Engineered to offer a perfect fit
XT2 for permanent odor protection
Plush interior padding
Adjustable visor
Ratcheting chin-strap to open the helmet easily
Cons
8. POC Coron Air Spin Helmet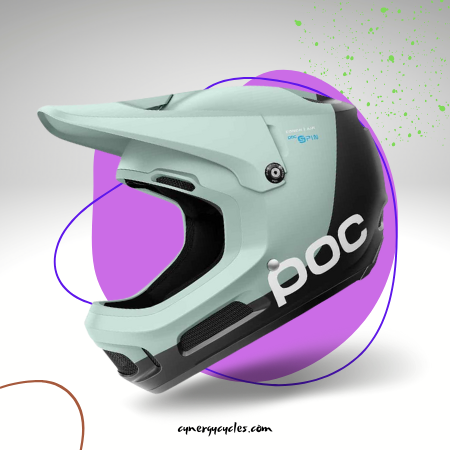 This is POC's take on full-face helmets. Though it claims to be ideal for downhill riders and enduro racers, the latter may not prefer it unless they can deal with a large lid resting on their head during their ascents.
This helmet is available in XS-S, M-L, and XL-XXL sizes. It has a fiberglass shell for incomparable strength. The shell comes with a multi-impact EPP liner to provide you with outstanding durability and crash protection.
It's interesting to note here that EPP doesn't deform permanently, unlike EPS (expanded polystyrene, which is used by most manufacturers) that absorbs energy through plastic deformation.
As this helmet uses POC's SPIN technology (Shearing Pad INside) that's designed to handle angled impact, you'll stay safe even if crashes happen as the technology would reduce rotational forces.
As large vents direct air through the helmet using a series of interior channels, you'll have adequate ventilation to stay cool even when fully covered. Apart from delivering adequate protection, the largemouth-style chin bar also offers sufficient ventilation.
Since the visor of the Coron is designed to break away in case of a crash, it would prevent your neck or head from suffering any additional twisting or torsion.
Highlighted Features
Sturdy fiberglass shell
Helmet integrated with SPIN pads
Multi-impact EPP liner
Pros
Removable cheek pads for added security
Assorted large vents for optimal airflow
Ear chambers to minimize hearing/balance-associated problems
Breakaway visor
1-year manufacturer's warranty
Cons
A bit overpriced
Is quite heavy
9. BELL Full-9 Helmet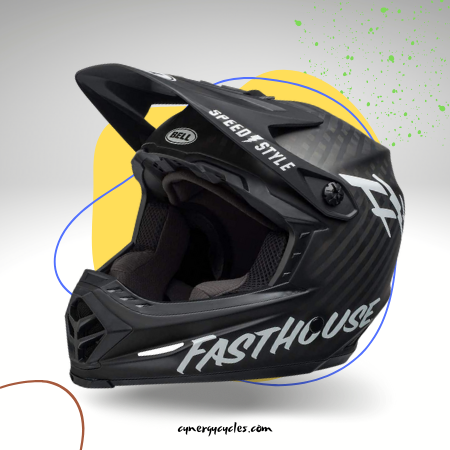 If you're looking for the best full face mountain bike helmet that money can buy, the durable and lightweight (1130 grams) Full-9 with a unidirectional full-face carbon shell is worth every dime spent.
To keep you cool during the ride, there're 10 vents in the overbrow ventilation system. With Bell's integrated eject system, removing the helmet safely is a breeze as a recess in the EPS lets the removable magnetic cheek pads slide quickly.
There's a detachable, 360-degree breakaway camera mount that lets your camera pop off during a fall, thus protecting the device, your neck, and the helmet.
Thanks to its built-in speaker pockets along with audio cable routing, this helmet lets you enjoy your music on the move.
There's also a padded chin strap that has a D-ring clasp. Though there's a Flying Bridge visor that's fully-adjustable, some users find its design to be less refined than other similar products.
Highlighted Features
Suitable for downhill and BMX rides as well as enduro racing
Unidirectional full-face carbon shell
Integrated eject compatibility
Overbrow ventilation system
Soundtrax speaker system
Pros
Lightweight
3 brow ports and 10 helmet vents
Detachable, 360-degree breakaway camera mount
Detachable magnetic cheek pads
Cons
Visor design less refined than the competitors
Quite expensive
10. 100% Aircraft Comp DH Helmet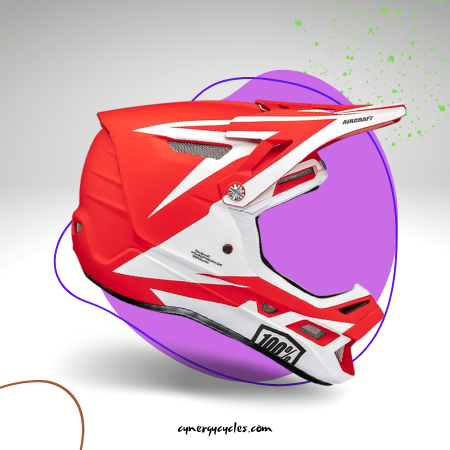 Featuring a fiberglass composite shell, the sleek looking 100% Aircraft is extremely strong, yet lightweight (weighing just 2.29 pounds).
It's one of the most ventilated helmets available in the market, thanks to its 25 venting channels that direct the airflow. For safe and quick removal of the helmet, there're emergency release cheek pads.
The 100% Aircraft is compatible with inflatable emergency release systems and even the most admired neck brace systems.
Since its cheek pads, comfort liner, and chin strap cover are washable, antimicrobial, and replaceable, you no longer need to put up with sweaty and messy helmets.
To give you a snug and secure fit, this helmet comes equipped with a D-ring buckle frame.
Highlighted Features
Fiberglass composite shell
25 venting channels
Compatible with inflatable emergency release systems
Washable, antimicrobial, and replaceable cheek pads, comfort liner, and chin strap cover
Compatible with the most admired neck brace systems
Pros
Lightweight
Offers a snug fit
Looks good with a great finish and style
Cons
The strap placement is a bit of a distraction
FAQ
How often should you replace your full face MTB helmet?
You should replace it every 5 to 10 years. But if you've suffered a crash or accident, get it inspected by a professional as it may need to be replaced sooner.
Should you buy a second-hand full face MTB helmet?
No, you shouldn't. It's not easy to say for sure how old a second-hand full face MTB helmet is. Additionally, it's not always possible to spot hairline cracks or other concealed damages. Wearing such a helmet on a trail would mean an accident or crash won't give your face and head the protection it needs. Why take chances with your life when you can always get a new one and be rest assured of protecting your head and face adequately?
Conclusion 
With a wide variety available in the market today, choosing the best full face mountain bike helmet could be difficult. Make sure to evaluate your needs, use the basic buyer's checklist discussed above, and consider your budget as well as the features you require to make an informed choice.