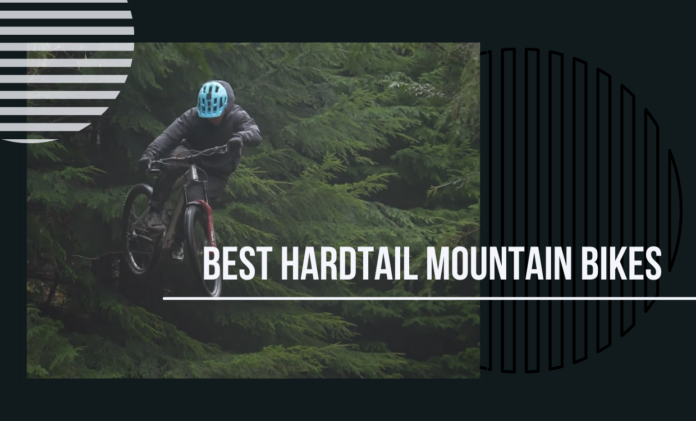 Those days when choosing a mountain bike was as simple as looking for fat tires and rugged a build are well and truly over. Innovation has worked its magic and brought you the hardtail mountain bike.
The hardtail bike features a suspension at the front—where you need it the most, which adds some much-needed compliance and flex.
The front suspension will iron out all potholes and bumps, and give you better control and responsiveness, making the hardtail perfect for climbers and trail riding. Another draw that comes with the absence of pivots, linkages, and shocks is the lightweight(all thanks to the lack of a rear suspension).
So, the hardtail will connect you to the trail and quickly and efficiently get you around without weighing you down.
Besides, few moving parts mean fewer faults and fewer maintenance costs.
We invested our time and effort to research and test countless hardtails in the most rugged of terrains.
This post brings you the test winners and provides you with a superior expert approach when choosing the best hardtail mountain bike from the infinite number available on the market.
Top 10 Best Hardtail Mountain Bikes Reviewed
Let's jump right in and take a look at the top hardtail mountain bikes on the market.
Here's the deal.
1. Marlin 7 – Best Hardtail Mountain Bikes Under $1000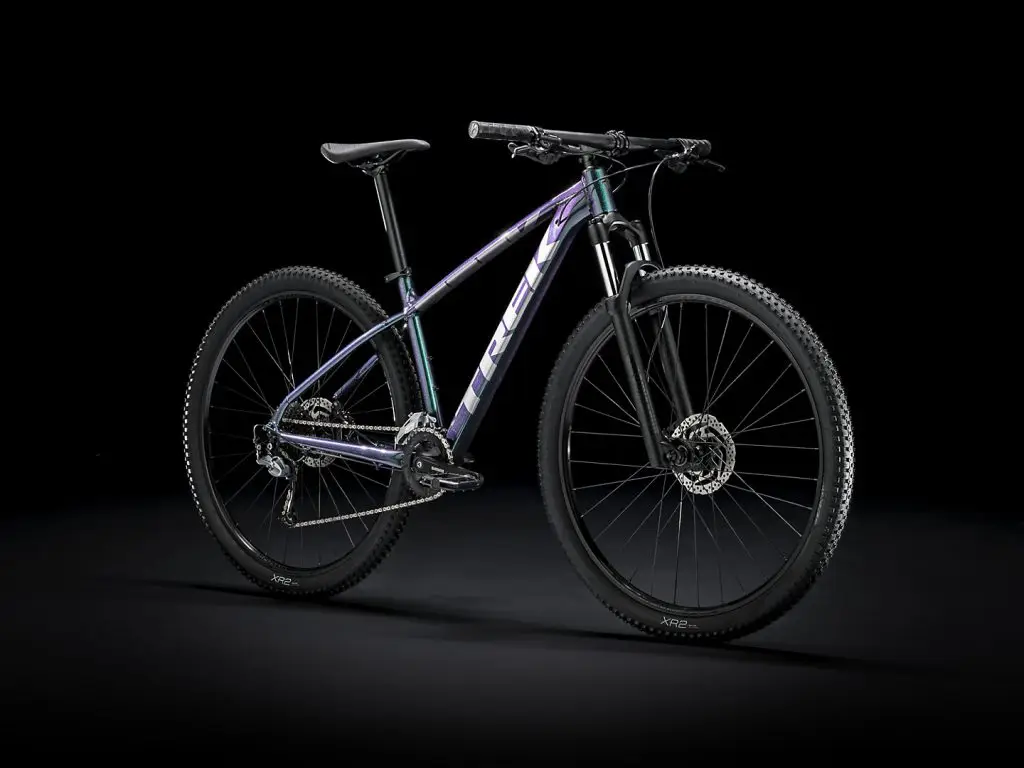 Trek is one of the bike brands that routinely scores high in the quality and value departments, and they nailed it again with the Marlin 7 cross-country hardtail mountain bike.
On the surface, you have a simple riding machine for commuting and weekend joyrides. Climb on, however, and you have an incredibly robust and fast little nine-speed monster with uncontrollable power—a perfect excuse to get started and taste the waters in matters hard riding and racing.
Solid and Lightweight Build
You will find a lightweight Alpha Silver Aluminum frame, which will stand up to a lifetime of vigorous riding without adding much to the bike's weight.
The frame comes with internal shift cable and brake hose routing, which keep your cables safe and makes the bike look clean and sleek.
Practical Features
Trust the smooth, lightweight RockShox fork with 100mm of travel to drop into every crevice, take leaps of faith, and iron out every pump without sacrificing on your control.
Furthermore, when cruising through a leveled ground, the suspension lockout lets you inactivate the fork to increase pedal efficiency rather than absorbing impact from bumps.
The Bontrager XR2 Comp tires will smoothly and hastily cruise through the most thrilling and breathtaking trails and quickly bite into the dirt when you pull the Shimano hydraulic disc brakes.
User-friendly
How clever of the company to include Bontrager Stem tech that allows you to clip the gear to the Blendr stem making it neat and user friendly. Weighing in at a reasonable 31 lbs., these wheels can withstand an ample 300lbs.
Bike Specifications
Drive train: Shimano Altus M2010, 9 speed
Weight: 31 lbs.
Tire size: 27.5 – 29 inches
Brake Type: Shimano hydraulic disc brakes
Body: Aluminum
Pros
Rack mounts for convenient storage
Different sizes available
Comes in multiple colors
lifetime warranty
Cons
May not be perfect for professionals
2. The Roscoe 8 2023 – Best Hardtail Mountain Bike Under $2000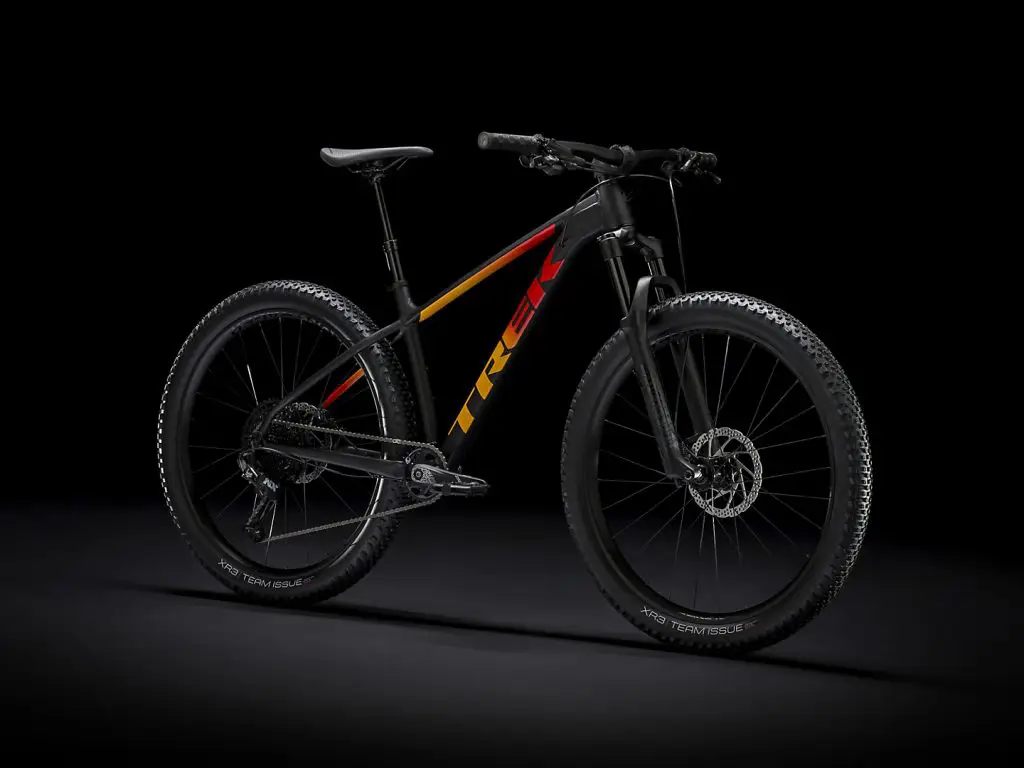 The Roscoe 8 will perform like a champ. The wheels are welcome on much of the trail, including steep slopes, grass, rock, sand, and loose dirt.
If it looks that concern you, you will also want to know that the Roscoe 8's sports dynamic and luxurious details and finishes that notably affirm that you are a pro.
Convenience Meets Comfort
The bike uses a toughened Alpha Gold Aluminum frame, which will not break on the first run nor wear for years to come.
The makers chose to upgrade the bike to a 120mm RockShox 35 Gold fork with a lockout to provide even more control and responsiveness. The wide range of gears lets you chose one that matches the task at hand.
Did we mention that the Roscoe 8 comes with a dropout post for lowering saddle? This feature helps you maintain upright positions when ascending uphill and negotiating corners.
Built For The Trail
In addition, 27.5+ wheels ensure you are well cushioned throughout multi-day journeys, day-long excursions, and short-yet-epic thrills.
The wide, grippy tires deliver even more confident handling should things get loose. Fret not when speeding down steep slopes and sharp corners, the hydraulic disc brakes got you covered should anything go wrong.
Bike Specifications
Drive train; SRAM NX  1×12 drivetrain
Weight: 32.07 lbs
Tire size: 27.5+ inches
Brake type: hydraulic disc brakes
Construction: Aluminum
Pros
Multiple sizes available
It is tubeless ready
Boost 141 rear hub spacing for shorter chainstays
Includes a rear kick mount and rack mount
Cons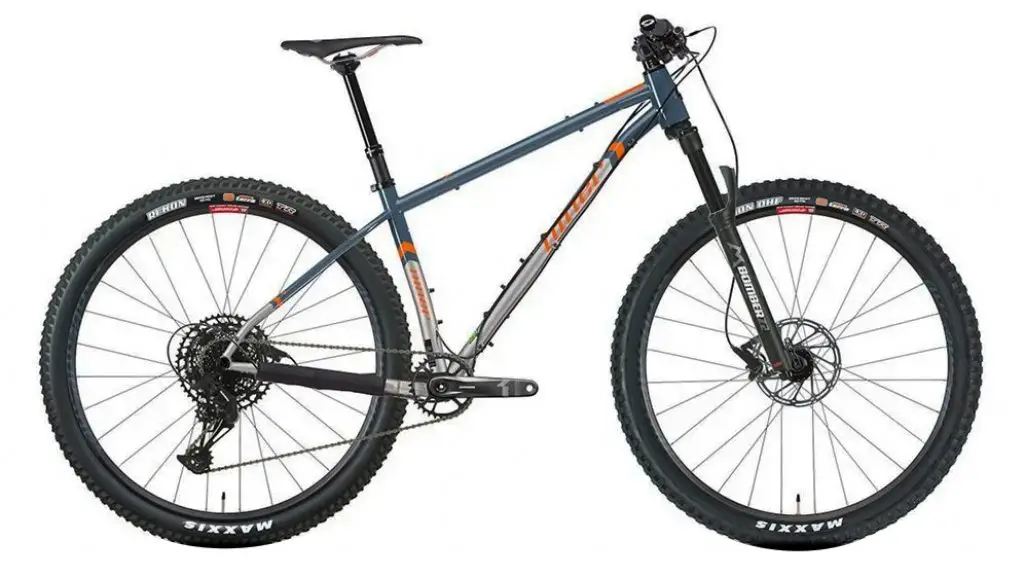 Introducing this heavenly combination of superior construction and outstanding durability from NINER. This is the kind of hardtail you need to bring with you on your next riding expedition as you explore away from civilization.
The manufacturer splurged in all the areas that count to ensure the bike delivers stellar performance and stands up to rough riding. The price may be a little on the high, but still, it is well worth the sacrifice.
Built to Last
You cannot do better than the industrial-grade Custom engineered Reynolds 853 steel frame in matters of thriving and holding up on the roughest looking rubble.
The company uses a very thin steel tube to keep the weight down and provide unmatched support and stability.
Trail Oriented
The Marzocchi Z2 120mm front suspension is designed to take the bumping impact and strains out of your everyday cycling and ensure smooth and supple riding.
It was thoughtful of the makers to offer the bike with big and plump Maxxis Minion tires and ensure that trail riding or muddy courses are no less comfortable than riding on pavement.
So, you will enjoy seamless pedaling all year round for years, and the most rugged and snowy terrains will be your favorite.
Exclusive Features
The makers chose to go different with SHIMANO XT M8100 metal pad brakes are efficient in bringing the bike to an immediate halt and tackling rowdier descents and sharp bends.
Additionally, the down tube cable stops are removable to make for clean single-speed or geared setup
Bike Specifications
Drive Train: SRAM SX 1×12 drivetrain
Weight: 30 lbs.
Tire size: 29 inches
Brake Type: SHIMANO XT M8100 metal pad brakes
Construction: Steel
Pros
Highly durable
One year return policy
Lightweight and portable
Cons
It comes in one size only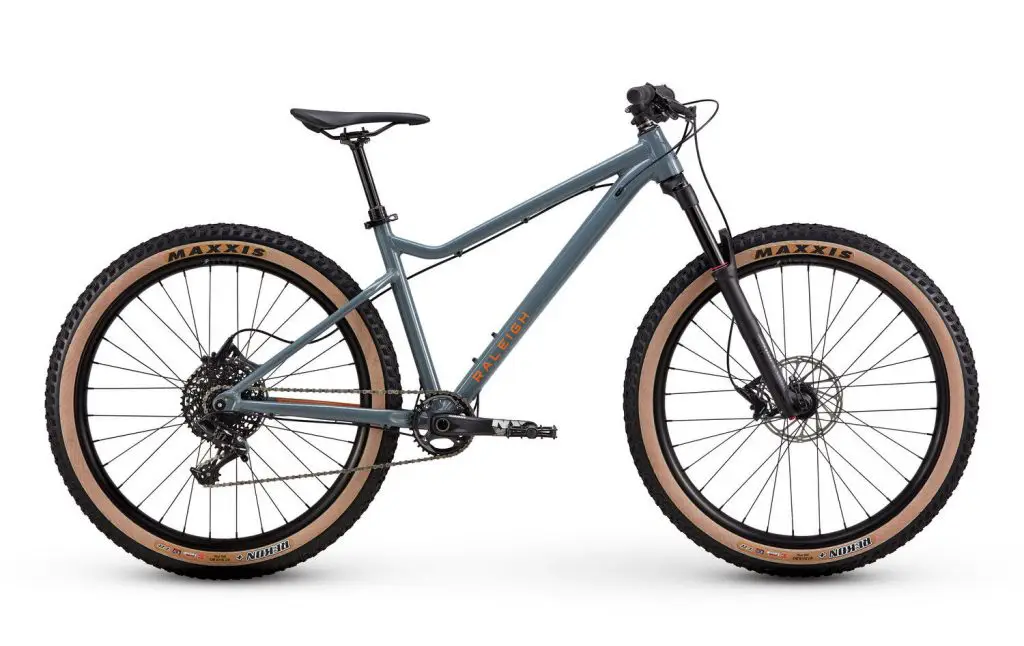 Simplicity meets functionality with the Raleigh TOKUL 3. This robust hardtail boasts more power than a fighter jet and performance to rival the gods of the cycling world. It's always got your back—the ideal ally to get you out of tough situations.
Worth The Sacrifice
The 11-speed drivetrain will climb rugged hills as though they are level pavements. The frame is a product of Heat Treated Aluminum, making it lightweight yet tough enough to take a serious beating.
Tokul 3 isn't the cheapest option money can buy. However, the extra quality justifies the extra dollars you will pay. The company only offers this unit in dark grey.
Built for Performance
The RockShox Air fork with 130mm of travel on the front does a good job of smoothing out every ride. With the hydraulic disc brakes, you will confidently negotiate corners and ascend even the most challenging downhills.
Additionally, the well-done treads coupled with double-wall alloy, tubeless-ready, 50mm wide rims will grip the loose surface and steep climbs where you need to stand out of your saddle.
Bike Specifications
Drive train: SRAM NX 1×11 drivetrain
Weight: 33 lbs.
Tire size: 27.5 inches
Brake type: hydraulic disc brakes
Body: Aluminum
Pros
Comes with cable-rub protectors
Quick-release seat height adjustment
Various sizes available
Boost spacing
Cons
The handlebar is a little narrow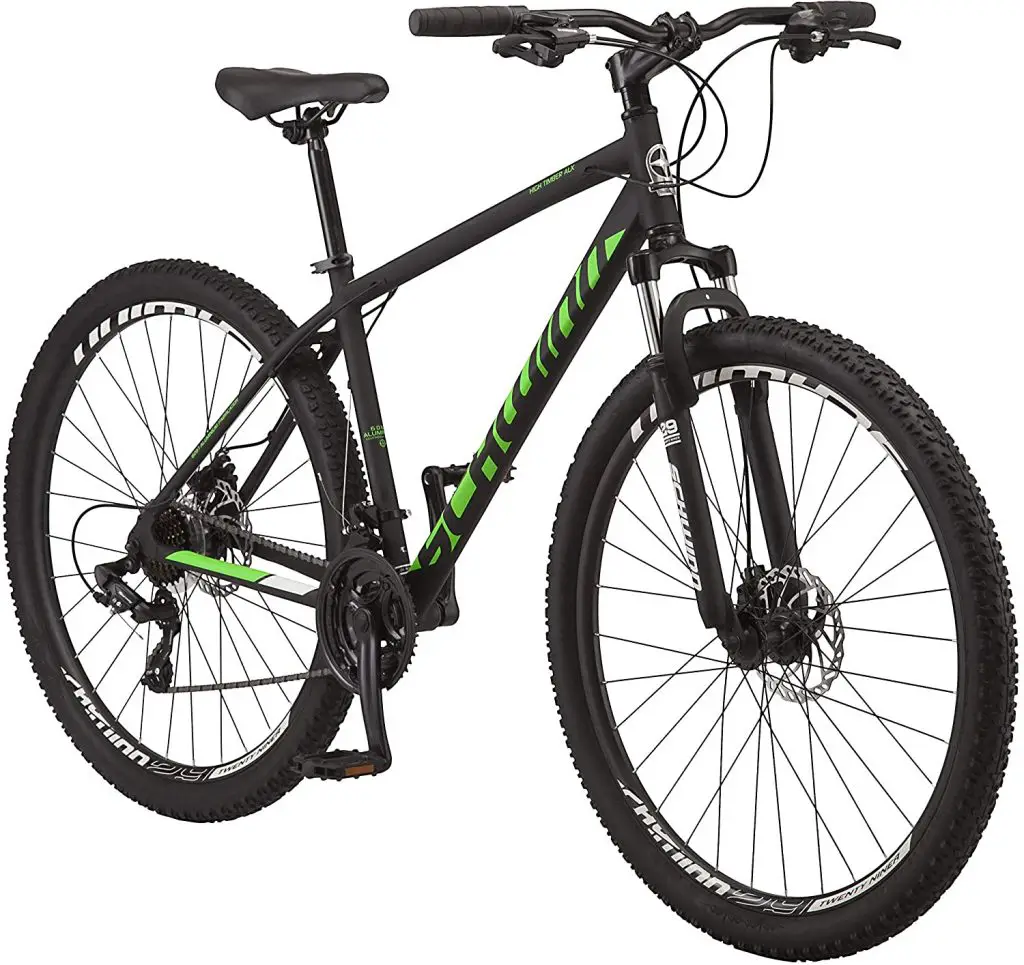 The Schwinn High Timber Mountain Bike is precisely what you will need if you want success while off the road without spending a tone. Take it to a rough terrain unleashes its unrivaled precision handling and hit its limit (or rather, yours) when climbing rocky uphill through loose or rooty ground.
Built to Last
There is a Schwinn steel mountain-style frame that promises decades of quality rough terrain mountain cycling. The alloy rims will not only cut the weight to a minimum but also durable enough to outlast the bike itself.
Versatility
The seven-speed drive train will let you ride on any surface you please and gives you sufficient oomph to wind your way around sloppy and rocky terrain flawlessly.
Fortunately, all the pressure that comes with hardtail mountain cycling is no much to the front and rear alloy linear pull disc brakes as far as stopping power goes.
Functional Components
On the front, there is a Schwinn suspension fork, which makes it a bit friendlier to ride on rough terrain.
That's not all; you are sure to enjoy steady gearing and save a lot on maintenance with the durable Schwinn alloy crank. Precise gear changes won't be limited to favorable conditions only. You can still smoothly switch between gears on any surface or condition.
Courtesy of the Shimano twist shifters and a Shimano rear derailleur allow for smooth, precise gear changes out on the trail, on almost any surface or incline.
Bike Specifications
Weight: 42 lbs.
Tire size: 24 – 29 inches
Brake type: hydraulic disc brakes
Construction: steel
Pros
Multiple sizes available
Comes in different colors
Highly affordable
Cons
6. Co-op Cycles DRT 1.1 Bike – Best Hardtail Mountain Bikes Under $500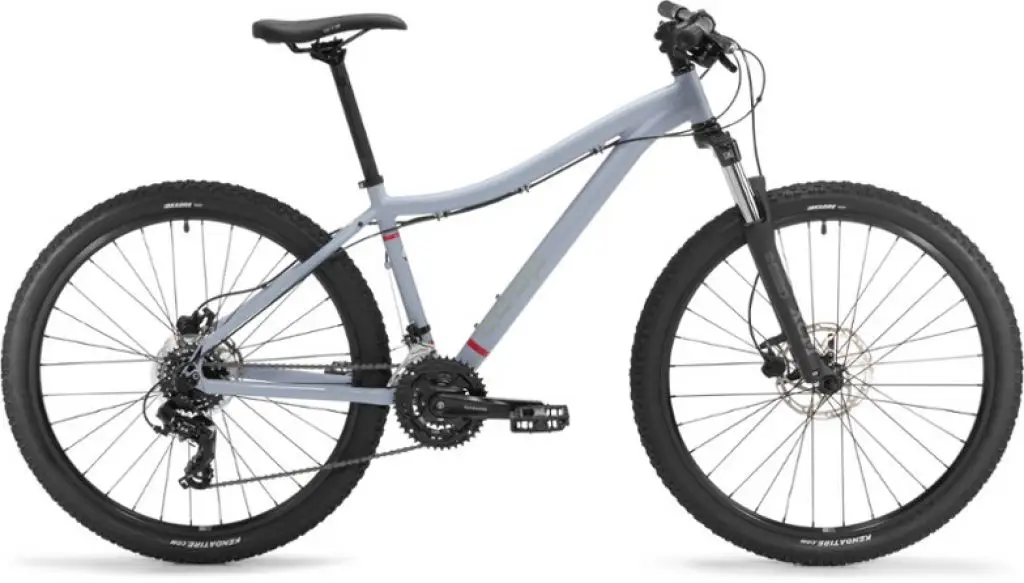 Who wouldn't want such a budget-friendly, superbly built, trail smashing machine? The muscular Co-op Cycles DRT 1.1 Bike is unapologetic for what it does and is almost over-equipped for steep and rugged terrains.
Supreme Build Quality
Like other top products in its class, this trail bike features an aluminum frame that keeps it on the light while still making it extremely durable. Overall, the bike feels as solid as it looks and will defy all the rigors of off-road riding.
Smooth Delivery
Like you'd expect, you will find an SR Suntour suspension fork that gives you 100mm of fork travel that improves control and responsiveness.
The Shimano 3 x 7 drivetrain provides a whopping 21 gears, so you have the power you need when fighting gravity as much as working with it.
You will enjoy smooth and precise switching between the gears thanks to Shimano Tourney rear derailleur delivers seamless and accurate gear changes.
Not just that, the stopping power you get from the Tektro hydraulic disc brakes is dependable in all weather conditions and on root and rock-strewn trails.
Technical Specifications
Drive train; The Shimano 3 x 7
Weight: 31 lbs. 10 oz.
Tire size: 27.5 inches
Brake type: hydraulic disc brakes
Construction: Aluminum
Pros
Reasonably priced
Assembly tools and instructions included
Comes in different sizes and colors
Free tune-up within the first six months
Cons
7. Santa Cruz Chameleon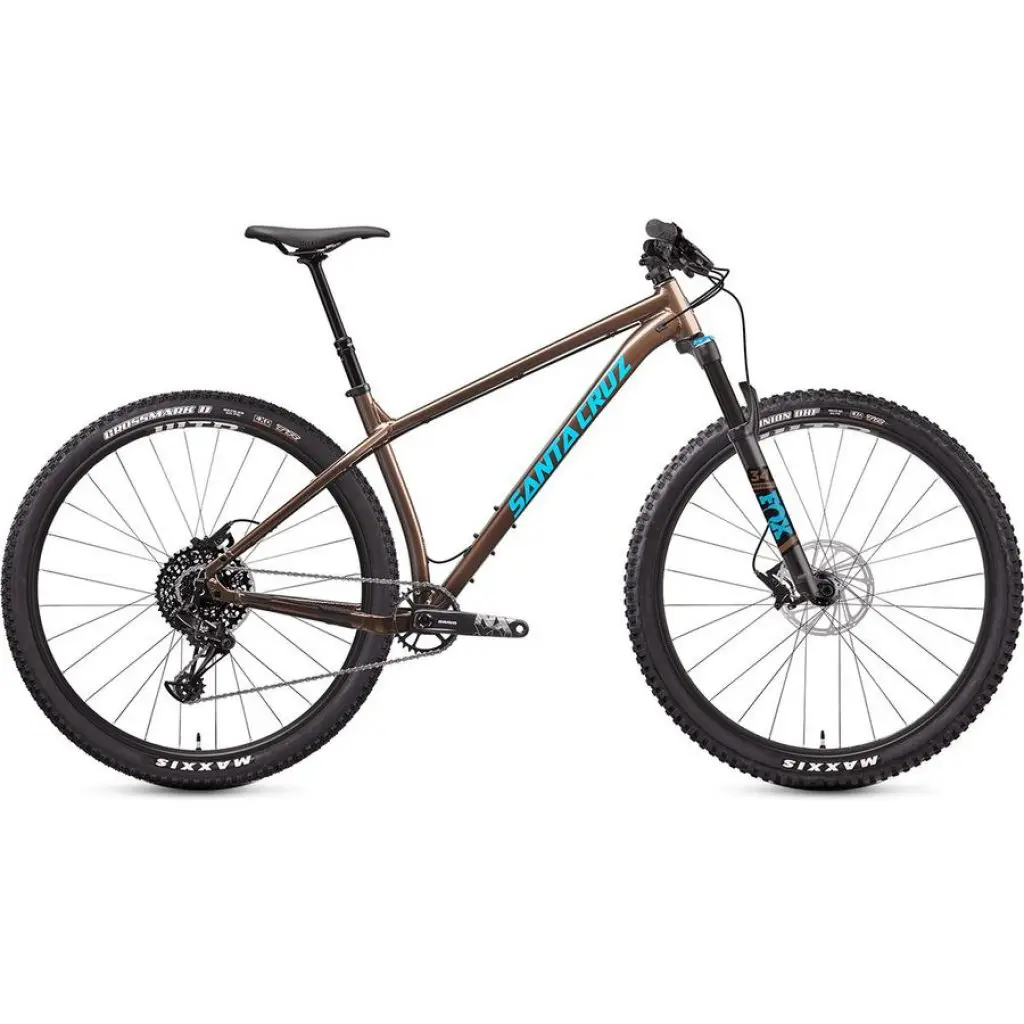 If you don't mind shedding several thousand for best in class quality, why not go for the very best. Santa Cruz Bicycles aims to prove its skeptics wrong with the Chameleon hardtail bike. It handles and opens up like a sporty, race-oriented bike and fits riders of varying abilities.
Practical Yet Durable Construction
Don't let the lightweight aluminum fool you: This heavy-duty unit will resist wear and tear, breaking, rust, and other elements and deliver for extended periods.
However technical and rough the surface you intend to throw it on is, the 130-millimeter FOX Rhythm 34 fork will smooth things out, cushion you, and enhance control and responsiveness.
Also, Maxxis Rekon EXO TR tires that come with the bike will romp with ease around old cart roads and double track trails for newbies and fast-flowing singletracks for veterans.
High-Performance Machine
With 12 speeds, you will have no excuse for not pushing your luck on the trails. The disc brakes give you the stopping power you need to handle the steep sections and sharp turns.
What is more, the bike includes interchangeable dropouts that let you change the wheels and swap out the gears for single-speed use on level ground. Other features worth mentioning include lengthy front end, and relaxed 67.5-degree head tube angle.
Technical Specifications
Drive train: SRAM NX Eagle 12-speed
Weight: 35 lbs.
Tire size: 27.5+ inches
Brake type: disc brakes
Construction: Aluminum
Pros
30-day free return
Lifetime warranty on the frame
You will get multiple size options
Lightweight and portable
Cons
8. Salsa Timberjack SLX 27.5+ Bike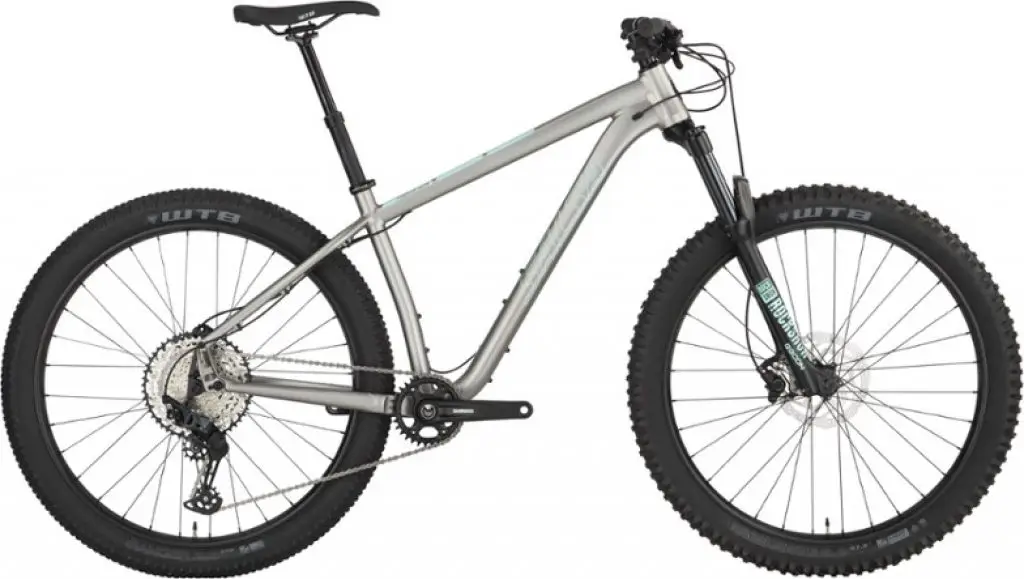 Meet the Salsa Timberjack SLX Bike. Another best in class pro hardtail that brags of the ability to conquer steep and rugged climbs full of rocks and step-ups. It is also a beginner-friendly rid that will make a joke of light singletracks, gravel, and pavements.
Sturdy Construction
A robust and efficient triple-butted 6066-T6 Timberjack Aluminum Frame will be responsible for anchoring your machine.
We must also acknowledge how effective the RockShox Recon RL 130mm suspension fork is excellent at smoothing out rugged terrain and offering you better control and responsiveness.
All Mountain Power
The 12 gear drivetrain is efficient in delivering the muscle you need to ascend dramatic pitches effortlessly—perfect adventure bike for bike packing, touring, and other long-rides.
The Shimano hydraulic disc brakes shine at providing the much-needed braking power when plunging into steep descents and railing around corners. 
Extra Components
Full-length internal housing cable routing does not only give the bike a clean look but also improves shifting performance in poor conditions. Feel free to purchase and attach the Salsa Alternator and Standard rear rack.
Technical Specifications
Drive train: Shimano 1×12 drivetrain
Weight: about 32 lbs.
Tire size: 27.5 inches
Brake type: hydraulic disc brakes
Construction: Aluminum
Pros
Provides for size options
Comes with 2/3 bottle cages
Tires are tubeless-ready
Cons
9. Diamondback Bicycles Overdrive 2 – Best 29er Hardtail MTB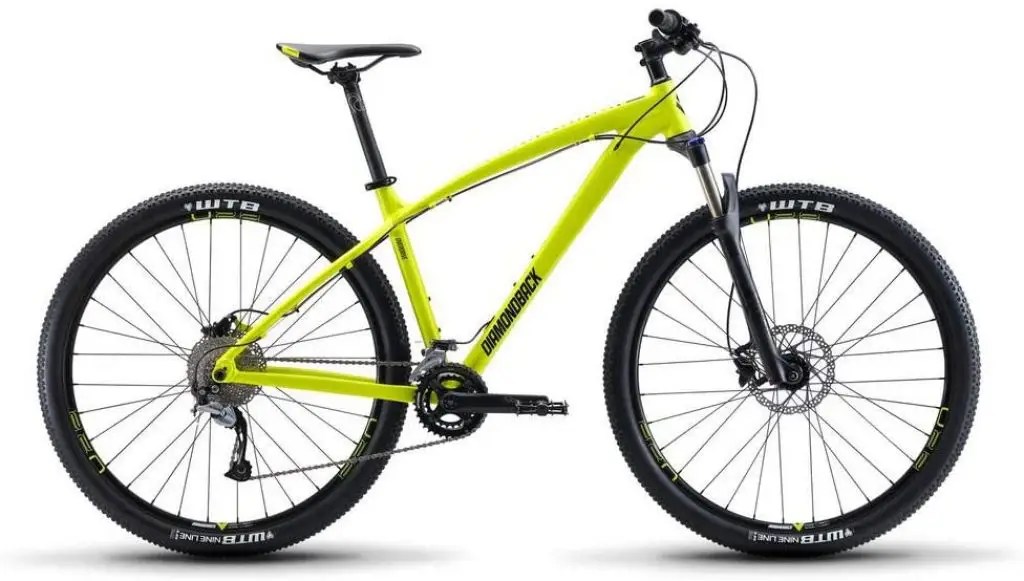 From how it looks, you can tell that the Overdrive 29 2 Hardtail Mountain Bike was built for serious performance. This thing packs a punch. It managed to pull stunts, tear stuff up, and stimulate imaginations in our tests.
We took the wheels to the edge of their comfort zone by throwing them on steep, rocky and irregular trails, and light gravel and pavements alike. Still, they pulled through and surpassed our expectations.
Superior Construction
The aluminum construction makes for the lightweight yet sturdy frame that will withstand hold up to long years of dedicated service. A stiff 100mm RockShox Reba RL fork is in charge of absorbing every impact when pedaling through irregular surfaces.
Should you need to disable the fork, the on-the-fly lockout control will be there to help. Shimano Mt500 hydraulic disc brakes promise more than sufficient enough stopping power for whatever terrain or level of riding you have in mind.
Designed for the Trail
The bike uses an SRAM NX/GX 1×11 drivetrain, which is easy to operate and super smooth when shifting gears.
Therefore, it is a cinch to navigate through rugged, rocky, loose, and light trails. The Overdrive 29 2 also features the company's Blanchard 25 tubeless-ready wheelset.
The 29-inch tires do not only offer the ground clearance you need for bumpy rides but also provide excellent traction and grip on loose soil or slippery surfaces.
Technical Specifications
Drive train: SRAM NX/GX 1×11 drivetrain
Weight: 29.5 lbs.
Tire size: 29 inches
Brake type: hydraulic disc brakes
Construction: Aluminum
Pros
Limited lifetime warranty on frame
Effortless four-step assembly
Tires are tubeless-compatible
Lockout on the fork
Cons
10. 29 Boost Mountain Bike
The 29 Boost tries to set the bar too high for any hardtail bike in the competitive market to reach. It is not cheap, but quality products on the market seldom are. But under your legs, you will get an astoundingly lively ride quality that you cannot anticipate by looking at it.
All-Carbon Build
The predominantly carbon features a Carbon frame that is stiff and efficient and weighs reasonably so it will not slow you down. A carbon fork works wonders in smoothing out the rugged trail. The rim, handlebar, stem, and seat post are also crafted from carbon.
True Value
The 29 boost mountain bike comes with 29 inch Maxxis tires that will even outlive the bike. Besides, the company stands by this product with a return guarantee.
Technical Specifications
Drive train: SRAM's XX1
Weight: – 35 lbs
Tire size: 29 inches
Brake type: hydraulic disc
Construction: Carbon
Pros
Comes in different sizes
Includes a headset, assembly tools, and instructions
Lightweight and durable
Cons
Factors to Consider When Buying A Hardtail Mountain Bikes
Here are some things you should consider before investing in a high-quality hardtail mountain bike.
Types of Hardtail Mountain Bikes
Hardtails are designed to suit specific types of riding and environments. They are classified based on their frame geometry, especially the head angle and the seat tube angle, suspension travel, and the suspension design. Others are elements like gears, handlebars, and brakes.
The following are the common types of hardtails
Trail bikes
They are all-purpose riding, trail bikes that work well when climbing and descending. They are commonly used in trail centers and wild singletracks. The suspension travels four about 110mm to 140mm travel, and the head angle is at about 67 degrees
Cross-country bikes
You will find them lightweight and with minimal suspension travel. XC bikes have suspension systems that are focused on maximizing forward momentum and a gear system that provides maximum speed and efficiency
Enduro and all-mountain bikes
They are built to withstand the vigorous racing and long rides on more significant terrain with technical climbs and descents. The head angles are about 65 to 66 degrees with steep seat tubes of between 73 to 75 degrees. These angles will give power and traction on climbs. The suspension usually ranges between 140mm – 160mm
Downhill Bikes
They are created for jumps, drops, and rock gardens. The front suspensions allow enormous 200mm+ travel on the forks. They also have big discs and powerful brakes
Moving on.
Size
To make sure that a bike is a right fit for you, find the following measurements:
The Reach – distance between the saddle and the bars.
The Stack – distance from the center of the crank to the mid-head tube.
Wheel sizes range between 26 inches, 27.5, and 29 inches( popularly known as 29ers). Larger wheel sizes are excellent if you are going the long miles while smaller ones are stronger and perfect for smashing trails.
Material
The material used directly determines the durability, endurance, and purpose of the bike. The most used materials include carbon and aluminum.
Carbon fiber bikes boast the highest strength-to-weight ratio. However, they are quit most expensive. On the other hand, aluminum frames are lightweight but more susceptible to breaking and wear.
Extra Features
If you are riding on messy conditions or mud, opt for disc brakes. Also, opt for mountain bikes that offer flexibility for upgrades and adjustability should your need grow.
Price
Hardtail can be pretty pricey but not more than a full-suspension MTB though.
If you can afford the extra bucks, feel free to go for the high-end models that offer unsurpassed performance. Worry not if you are on a budget. Our list features a variety of reasonably priced picks that still deliver like the best of them.
Let's Take a Quick Look at the FAQs
Here's a quick look at the frequently asked questions, shall we?
Are hardtail mountain bikes good for downhill?
Hardtail mountain bikes for downhill are built to withstand the vigorous drops with technical descents.
The head angles are about 65 to 66 degrees with steep seat tubes of between 73 to 75 degrees. These angles will give power and traction on climbs. The suspension usually ranges between 140mm – 160mm. They also have big discs and powerful brakes.
Are hardtail mountain bikes good for jumps?
Not all hardtail mountain bikes are designed for jumps. Hardtail mountain bikes intended for drops come with front suspensions that allow enormous 200mm+ travel on the forks.
In Conclusion
Did we help you choose the best hardtail mountain bike for yourself?
A high-quality hardtail mountain bike can make a big difference in your cycling experience.
In this guide, we have highlighted the top hardtail mountain bikes and broken down all you need to know before you make a purchase. Grab yours today as enjoy a heavenly riding experience.