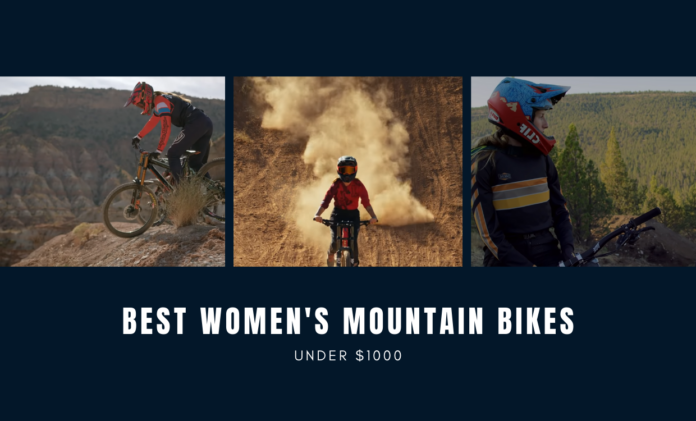 Mountain biking is exhilarating and an excellent way to shed extra pounds during the summer!
Cardio at the gym can be tedious.
Good Choice
Amazon's Choice
Best Price
Diamondback Bicycles Cobra 24 Youth 24" Wheel Mountain Bike, Blue, 02-0500020
Dynacraft Slick Rock Trails 26" Mountain Bike
Schwinn High Timber Youth/Adult Mountain Bike for Boys and Girls, 24-Inch Wheels, 21-Speed, Steel Frame, Teal
Good Choice
Diamondback Bicycles Cobra 24 Youth 24" Wheel Mountain Bike, Blue, 02-0500020
Amazon's Choice
Dynacraft Slick Rock Trails 26" Mountain Bike
Best Price
Schwinn High Timber Youth/Adult Mountain Bike for Boys and Girls, 24-Inch Wheels, 21-Speed, Steel Frame, Teal
With professional bikers like Rachel Atherton, Catherine Pendrel and Cecile Ravanel leading the way, many women and young girls are entering the field with every passing day. If you've got a zest for adventure and are looking to torch some calories, a mountain bike can prove to be an excellent investment.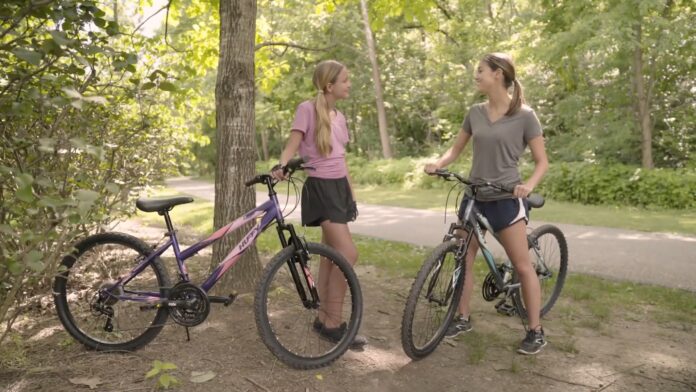 This blog post will help you find the best women's mountain bike under $1,000.
Our Top Choices: Best Women's Mountain Bikes Under $1000
Whether you are a budding amateur or a well-seasoned professional, the quality of your bike plays a significant role in traversing mountain trails with agility, speed, and safety.
There are many features to look for like frame size, good suspension, proper wheel size, etc., which can lead to high costs in your pursuit of quality.
Here, we bring to you the ten best women's mountain bikes under $1,000.
1. Marlin 6 Women's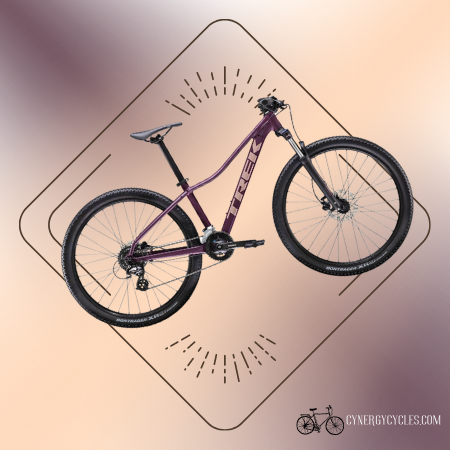 If you are looking for a bike that is a hybrid between a mountain bike and a regular on-road bike for everyday use, this is the right one. Unlike most bikes, this one is specifically calibrated for a women's grip and feel.
Good Suspension Fork With Lockout
While riding on longer and less bumpy roads preserving stamina becomes a priority. Marlin achieved this thanks to the lockout feature on their suspension fork.
This lockout renders the fork inactive while you're on the road, increasing pedaling efficiency and preserving energy. 
Flexible Top Tube
For shorter riders, riding becomes uncomfortable, especially with the current standard standover ride, typically for taller riders.
Marlin 6 solves this problem by providing a top tube that curves for S and XS size bikes, which make straddling the bike easier while riding. The larger frames have a straight top tube.
G2 Geometry
Their custom-designed G2 Geometry enables the rider to maintain stability while continuously switching between low and high speeds.
Main Specifications
Weight: S – 14.08 kg / 31.05 lbs
Frame: Alpha Silver Aluminum
Fork: SR Suntour XCT 30
Tires: Bontrager XR2, 29×2.20˝
Pros
The lightweight frame and hydraulic brakes make it easy to navigate through rough trails
Short-reach brakes are available for smaller frame sizes
Kickstand mounts and racks are available for day-to-day use
Offers a lifetime warranty
Cons
The constant cold aluminum frame may not be feasible for colder weather
The brakes are loud, and no dropper post is available
2. Diamondback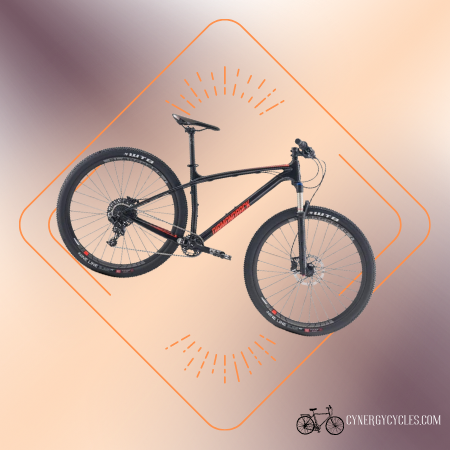 A bike that can be used in your local cross-country motorbike race for driving over those rough and rocky patches over your trails; this bike is a combination of sturdiness and agility. Precision, speed, and lighter weight, the diamondback covers it all.
Hand-built Aluminum Frame
The Overdrive's frame is hand-built with a lot of expertise using lightweight aluminum.
This ensures smooth sailing over the toughest terrains with tremendous confidence due to the control and stability offered.
Easy Gear-shifting Capability
With their wide range of gears, you can click off shifts with great precision and accuracy, ensuring a safe and satisfying experience while tracing along with various kinds of terrain.      
Mechanical Disk Brakes
Stopping to a halt is now a smoother experience, all thanks to their Tektro disk brakes.
Main Specifications
Height: Depending on the rider's height ranges from 767 mm to 810mm
Frame: Overdrive 29″ Butted 6061-T6 Aluminum
Fork: SR Suntour XCT30 29″
Tires: Vee Rubber Mission front 29×2.25 rear 29×2.1
Pros
Ample gearing provided for steep inclines
Mechanical disk brakes increase stopping control
The suspension fork has a replaceable hanger
Cons
No rebound adjustment in the suspension fork
Wheels are pretty heavy
3. Cannondale Trail Tango 3 2023
With a geometrically specific, beautifully crafted frame, the Cannonball Trail becomes the bike with a perfect fit for women. Its sturdy dirt-ready components will help you take your riding up a notch unto unexplored territories.
Available Wheel-range is Wide
With wheel sizes ranging from S to XL, it caters to the needs of a wide variety of women to provide a blend of adventure, speed, and fun.
Expertly Crafted Dirt-tailored Geometry and Frame
You can confidently handle the bike with proper composure and quickness, all thanks to its dirt-tailored geometry. Its Smartform C3 alloy frame crafted with decades of expertise ensures confident and comfortable handling of the bike.
Its short stem and wide bar ensure greater grip and control while riding.
Wide Gear-range Configuration and Chainstay
The 18 gear configuration accompanying the bike provides coverage over a wide variety of terrain. Its short chainstay helps maintain traction and agility.
Main Specifications
Weight: 31 lbs. 4.8 oz.
Frame: SmartForm C3 alloy, StraightShot internal cable routing
Fork: SR Suntour XCM-RL, hydraulic cable-actuated lockout
Tires: XS: WTB Ranger 27.5 x 2.25
Pros
It has incredibly durable wheels and tires
The quality of hydraulic disk brakes is excellent
Accompanies a wide range of gears
Cons
Not suitable for rough and bumpy terrain
4. Schwinn High Timber Youth and Adult Mountain Bike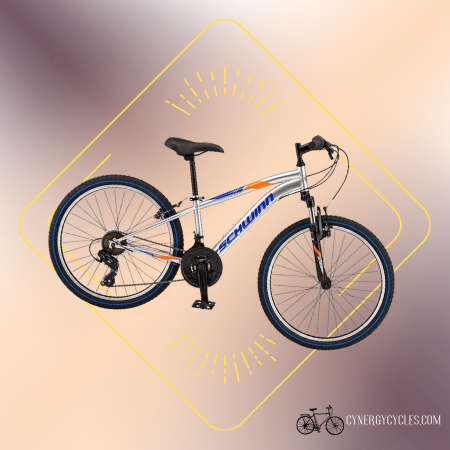 Coming from one of the most well-known manufacturers of mountain bikes, you can bet your bottom dollar on the High Timber Youth when it comes to quality.
You will have many adventurous trails to explore with this mountain bike due to its lifetime warranty. The Schwinn High Timber is a great choice when it comes to buying mountain bikes for women under 1000$.
Durability
With alloy mechanical pull-brakes for superior stopping power and a steel or aluminum frame, you can ride this beast with durability and speed.
This bike ensures controlled riding, especially on rough, uneven trails due to its Schwinn suspension fork with the Schwinn mountain frame.
Comfortable Seating
You can now ride in an upright position comfortably while holding on to its seamless handlebar grip.
Additional Features
With an offering of a 21-speed rear derailleur and all-terrain, wide mountain tires, be prepared to travel far and wide with this beauty.
All kinds of surfaces can be traversed through due to alloy rims on the wheels. You can now weather different speeds using the quick gear changing capability using 7-speed Shimano twist shifters and Shimano rear derailleur.
Main Specifications
Frame: Schwinn aluminum/steel mountain frame
Tires:   Schwinn 27.5 X 2.2
Pros
It provides steady gearing and less maintenance
With its quick-release seat post, the height adjustment of the bike also becomes easy
It can be used on various surfaces due to all-terrain tires
Cons
The design and geometry of the bike are not of good standing
5. GHOST Lanao 4.7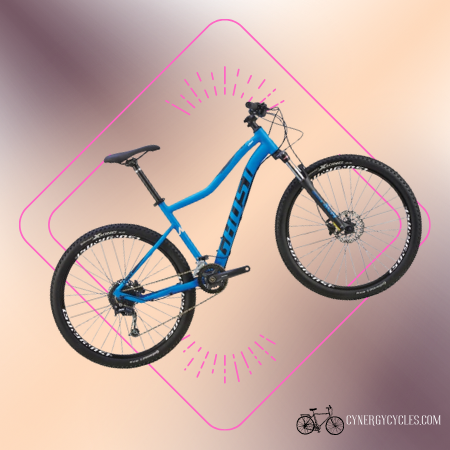 This hardtail bike comes with great quality components that are specifically designed for women by women at affordable prices. This bike is a great option for beginners as its deep overhang provides a lot of stable smoothness and safety while riding.
Available in a Wide Range of Sizes
GHOST provides a wide range of sizes ranging from 29ers for tall ladies and a 27.5 inch model for medium height. Additionally, they also have a specially designed 26 inch model for those who prefer smaller tires.
Another specialty of the bike is the size of the aluminum frame, which is decided as per the wheel size, thus giving us an ergonomically correct bike specialized for each woman.
Flexible Drivetrain for Gear-shifting
You can now sail through a number of speeds thanks to the 18 gears built into it. The Shimano 2×9 drivetrain ensures that shifting is carried out optimally while switching between all gears.
One-finger Braking
One of the most essential features of this bike is its 1-finger braking, which is achieved due to its powerful Shimano MT200 hydraulic disc brakes and rotors.
Main Specifications
Weight: 30 lbs. 13.8 oz.
Frame: Lanao aluminum
Fork: SR Suntour XCM RL 100 mm
Tires: Continental X-King SL
Pros
Smooth gear-shifting and braking
Designed and built specifically for women
It is dropper-post compatible
Cons
Regular readjustments required for performance and longevity
6. Women's Rockhopper Expert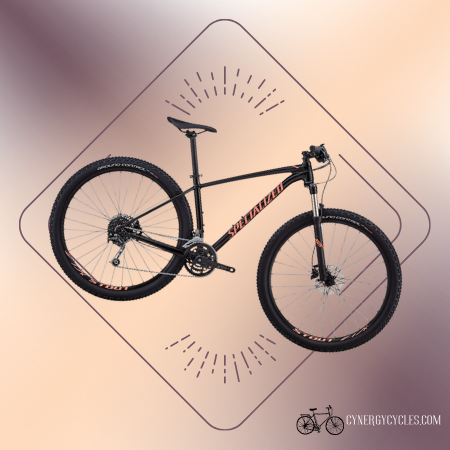 The Rockhopper is ideally designed to suit beginners. Its lightweight and durable build ensure that the biker has tremendous fun while learning on the go.
Easily Adjustable Body Size
Its new A1 SL alloy frame has tube shapes that are optimized to improve aesthetics while keeping it light.
The standover height and reach coupled with the good angle are inculcated into the geometry of the bike such that it provides a perfect fit irrespective of the size of the rider.
Crisp Use of Components
It has powerful hydraulic disk brakes coupled with good travel and SR Suntour XCR-Air fork. Reliable shifting is ensured with great crispness on tough trails due to its Shimano Deore rear derailleur.
Tailored for Women
The Body Geometry Myth Sport saddle and other components are tailored to the needs of women, in turn delivering comfort mile after mile.
Main Specifications
Frame: A1 SL Aluminum
Fork: SR Suntour XCR-Air 29
Tires:  Ground Control Sport, 29×2.3″ and 29×2.1″
Pros
It comes with replaceable alloy derailleur
It has a frame with internal cable routing for a clean body
Excellent geometry making it very comfortable to use
Cons
It does not come with a gear shifter
Not good for very bumpy trails
7. Scott Contessa Active 50 Mint Bike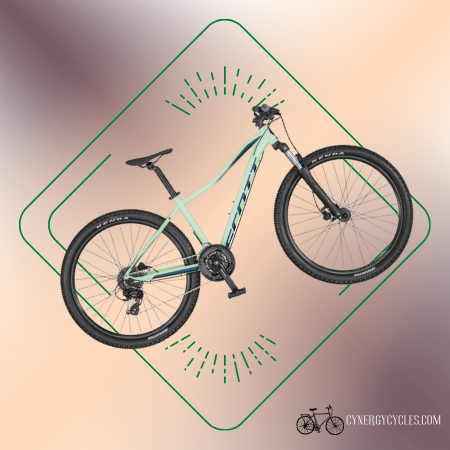 Now, here we have another bike from another well-known mountain bike manufacturer Scott.
This bike can be used by people at any level of training, from beginners to experts. Ideal for short trail rides lasting from 20-30 minutes, anything longer might leave you feeling stiff.
Stability and Versatility
With a super-light aluminum alloy frame and wide Kendra tires that have superb stability, transitioning from loose trails to roads becomes easy. Its rubber handlebar gives a better grip and greater control while riding along steep or uneven trail paths.
Easy Shifting Between Gears
The bike has the option of shifting smoothly between 24 gears while riding on all kinds of paths, including steep inclines due to its Shimano Tourney drivetrain. Gear changes can be done quickly without pressing hard on the paddles or shifting hand positions.
Additional Features
The smooth Tektro hydraulic disc brakes give an immediate stop at a moment's notice without jerking. Maintenance is also reduced as the shifting is routed internally, thus protecting the cables from wear and keeping the frame-free from clutter.
Main Specifications
Weight: 32.63lbs
Frame: Contessa Active Alloy 6061
Fork: Suntour XCE28
Tires: Kenda Booster 2.4″ / 30TPI
Pros
Superb grip using rubber handlebars
No jerking while brakes are applied
Less maintenance due to the internally routed shift
Cons
It cannot be used for long-distance trails
8. Merax 26″ Mountain Bicycle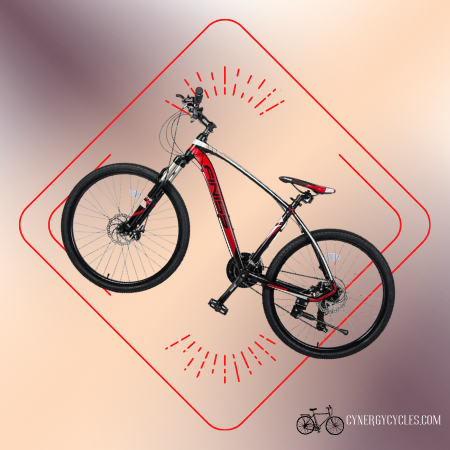 The Merax is an entry-level bike that is suitable for all kinds of terrain. Due to good suspension fork of 80mm, we smooth over bumps while maintaining a steady level of control over rough trails.
Despite having such elegance and features, this bike comes at a pretty affordable price.
Separate Disc Brakes
While riding, we may have to face a situation where we apply the brakes suddenly. This may cause a sudden jerk while stopping, especially at high speeds. To counter this effect, Merax has devised separate front and rear disc brakes to stop safely without jerking.
Stability & Gear-range
Due to its dynamic gear shifting capacity across a range of 24 speeds, this bike becomes ideal over rocky terrain and all kinds of weather conditions.
It can also roll easily due to its 26-inch double-wall aluminum rims. It has a weight capacity of 330 lbs and 26" double-wall rim wheels made of aluminum that ensure smooth riding on bumpy trails.
Main Specifications
Weight: 40 lbs
Frame: Lightweight 6061 Heat Treated Aluminum Mountain Frame
Fork: Full Suspension designed, CPSC Approved
Pros
Ability to glide through a variety of trails
Front and rear disc brakes are separate
Functional weight handling capacity
Cons
Regular-seat adjustment required after rides
Some parts of the gear shifting mechanism are plastic
9. Kona Mahuna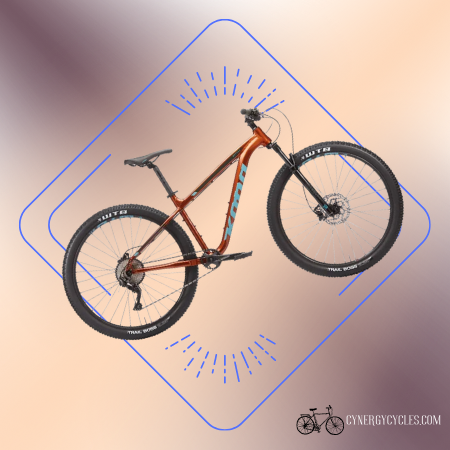 A solid hardtail bike, it is the first choice when it comes to high-value and high-quality mountain bikes. Smart choices in design like slack geometry and aggressive tires have made this bike pretty light while providing a lively ride over long distances.
Tubeless Rims and Easy Upgrades
Its internal router and tubeless-compatible rims make it friendlier riding along uneven rocky trails. The tubeless rims increase puncture resistance and lower the tire pressure because the ride has a better grip on the trail due to reduced resistance while rolling.
Post routing, the internal dropper features of the frame make upgrades simple.
Wide WTB Tires
Wide WTB Tires on big wheels provide an extra grip, which helps maintains your momentum over challenging obstacles. This maintains agility and durability throughout the ride.
Additional Features
They roll fast while speeding but have a quick stop response on applying brakes. The handlebar is closely attached to the front rim, improving the steering control. If registered within three months of the purchase, you automatically qualify for a lifetime warranty.
Main Specifications
Frame: Kona 6061 Aluminum Butted.
Fork: RockShox 30 Silver TK Solo Air 100mm
Tires: WTB Trail Boss 29×2.25"x2
Pros
Has proper geometry and tough tires to sail through rough roads
Can be easily upgraded
Has a lifetime warranty
Cons
The seat tube is unfinished
It lacks fork travel
10. Liv Bliss 3 2023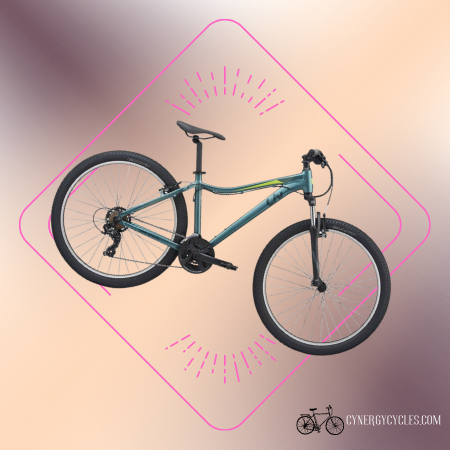 A lightweight hybrid bike for both mountains and everyday road travel, the Liv Bliss is the cheapest among the other bikes mentioned above. Costing almost under 500$, this bike is one of the best budget women mountain bikes.
Made for Women of All Sizes
The specialty of this bike is that it is suitable for women of all ages, as well as, different heights. It offers wheels in sizes 27.5 inches (S and M sizes) and 26 inches (XXS and XS sizes), which are smaller and broader, hence providing a great level of traction.
Hence many amateurs venturing into mountain bike riding can consider this a viable option while choosing a bike.
Lightweight Smooth Rides
It has an aluminum frame that is not very weighty and made in a relaxed style enabling the rider to sit comfortably with an upright posture.
It has an excellent combination of traction and braking precision that keeps you riding smoothly and safely in all kinds of weather.
Hybrid Bike with Alloy Wheel Rims
It has alloy rims on the wheels and hubs made by Joytech that provide the stability needed while traversing along extremely bumpy and smooth paths. This bike can be converted for daily commute by attaching rack or a kickstand using the mounts provided.
Main Specifications
Weight: Varies according to specifications
Frame: ALUXX-Grade Aluminum
Fork: SR M3030A DS 27.5/26
Tires: Giant QuickCross, 27.5×2.1/26×2.1
Pros
A light frame with excellent braking precision
Specially designed to fit women
It can be used for both daily commute and trails rides.
Cons
Too delicate for very rough mountainous terrain
Summing Up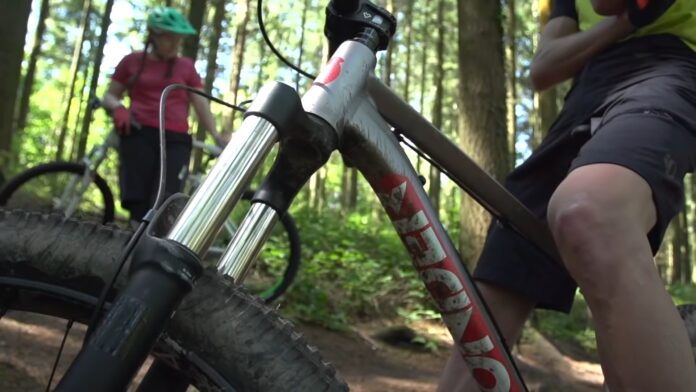 Looking at the above variety, we can easily choose a mountain bike according to our needs depending on the stage of our mountain bike training.
These are good-quality bikes for you to choose from while not eating too much into your pocket. Some of the best bikes around with assured reviews by many people guaranteeing their prolonged good quality and durability over time.
Mountain bike riding is a high endurance sport that increases stamina and confidence while keeping you healthy and at such affordable prices! It should be taken up by more women.
If these weren't enough, check out some other bikes from Amazon also: